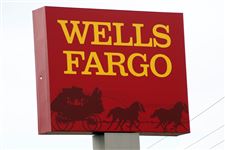 This April 11, 2017, photo shows a Wells Fargo bank in northeast Jackson, Miss.
ASSOCIATED PRESS Enlarge
The $2.1 billion that Wells Fargo agreed to pay for its role in the housing bubble that led to the Great Recession will be faint consolation to the millions of Americans who saw their home equity vanish, or lost their job.
Wells Fargo had revenues in 2017 of $88.4 billion. A comparable impact for a family living on annual pay of $75,000 would be a fine of $1,781. It would hurt, but it would be absorbed.
Click here to view more Blade editorials

The government accused Wells and many other big banks of understating the risk and quality of the mortgages they sold to investors at the height of the housing bubble, in Wells' case between 2005 and 2007.
These investors bought up tens of billions of dollars in mortgages from Wells and other banks, and experienced massive losses when borrowers failed to repay and housing prices collapsed nationwide.
The Department of Justice said Wells Fargo sold at least 73,500 loans that had poor underwriting standards to investors. Half of those loans defaulted, resulting in billions of dollars in losses to investors.
The misdeeds of the banking industry, combined with the misdeeds of the federal government through its quasi-public Fannie Mae and Freddie Mac mortgage backers, brought on the collapse of the housing bubble. That brought on the Great Recession, which devastated the savings, home equity, pensions, and jobs of millions of Americans.
Bigger fines were paid by Bank of America, Citigroup, Goldman Sachs, and other big banks in the years following the financial crisis to settle similar allegations. In earlier settlements with the Justice Department, Bank of America paid a $5 billion fine to authorities in 2014 for similar allegations, and Citigroup paid a $4 billion fine.
Acting Associate Attorney General Jesse Panuccio said, "This settlement holds Wells Fargo accountable for actions that contributed to the financial crisis."
Companies like Wells Fargo have a professional duty to exercise diligence in approving mortgages, which they forgot about in the heedless inflation of housing value. Did plenty of average Americans fall prey to the false promise of ever-rising home values? They sure did. They didn't expect to be led off the cliff by the country's biggest lenders, which were supposedly overseen by the government.
The collapse of the housing market left thousands of vacant structures in cities such as Toledo. As of 2012, one in five American families owed more on their house than it was worth.
This fine won't cripple Wells Fargo. But let's hope it hurts enough to remind the banking industry of he pain it caused, and of the long arm of the law.
Guidelines: Please keep your comments smart and civil. Don't attack other readers personally, and keep your language decent. Comments that violate these standards, or our privacy statement or visitor's agreement, are subject to being removed and commenters are subject to being banned. To post comments, you must be a registered user on toledoblade.com. To find out more, please visit the FAQ.