After Lucas County Auditor Anita Lopez made a passionate plea to the Springfield Local Schools Board of Education hoping to dissuade the district from contesting property values in an effort to collect more tax dollars, the Springfield Board of Education voted unanimously to dismiss the district's active complaints.
"I ask you to drop the suits," Ms. Lopez said during a presentation at a board study session Wednesday evening. "I will not leave you alone until you drop the suits. It's not your fight. It's the community's."
The board's decision to do just that came after weeks of public outcry and residents voicing their frustration with the school board for contesting their property values and increasing their property tax bill.
RELATED CONTENT: Springfield Local Schools residents ask school board to drop property tax complaints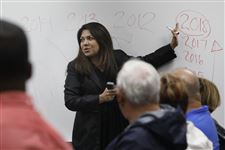 Lucas County Auditor Anita Lopez delivers a presentation to the Springfield School Board and members of the public outlining her office's plan to reimburse the district $239,000 in August of 2018.
The Blade/Katie Rausch
Enlarge | Buy This Image
The district has been disputing the values of homes sold for at least $50,000 above their appraised value, increasing homeowners' property tax bills. The district filed 101 complaints in 2016 after filing only 22 the previous year, according to Lucas County auditor's records.
Contesting home values is a customary practice that allows schools to collect extra funding in an environment where government school funding is inadequate, district officials said.
Ms. Lopez offered to give $239,000 to the district if officials temporarily stopped pursuing lawsuits seeking to increasing homeowners' property values. Ms. Lopez said she cut her budget by 30 percent when she was elected in 2007, and accrued a savings of $5.2 million. She said she'll keep $700,000 in savings and disperse the remaining $4.5 million to Lucas County school districts. She added she would not be able to legally give any money until August of next year.
Springfield President Richard Helminski said the board's decision was influenced by Ms. Lopez's willingness to compensate the district for lost revenue and help improve the school funding method.
"We need a commitment by community members to help not only Springfield but also surrounding districts to convince state legislators that the state funding of schools is unconstitutional," board member Kenneth Musch said. "It puts too large a burden on homeowners to fund schools."
Instead of fighting among one another, Ms. Lopez implored the school board and the community to unite and take this issue up with state lawmakers. The fissure in the community created by property taxes is a direct result of state funding legislation, she said.
Springfield Treasurer Ryan Lockwood said Springfield school district should be receiving over $14 million a year in state funding but they're only receiving $8 million.
"The state views us as wealthy so we as a district lose $6 million a year," he said. "That money compounds year-to-year and that is substantial."
After weeks of protests, some homeowners said they are willing to unify with the school board and take the school funding issue up with the state.
"It's time to take this fight to the state, said Brenna Kobak, who purchased a home in the Springfield district last year. "Imagine what we could do together instead of on opposite sides."
Mr. Musch said if residents want a long-term solution to address their concerns regarding property taxes they must contact their local and state officials.
"Until you grab them by the throat nothing is going to change," he said.
Contact Javonte Anderson at janderson@theblade.com, 419-724-6065, or on Twitter @JavonteA.
Guidelines: Please keep your comments smart and civil. Don't attack other readers personally, and keep your language decent. Comments that violate these standards, or our privacy statement or visitor's agreement, are subject to being removed and commenters are subject to being banned. To post comments, you must be a registered user on toledoblade.com. To find out more, please visit the FAQ.