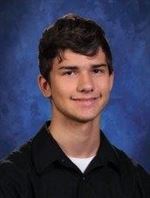 Eli Grau
FAVORITES:
School Subject: Math, AP Calculus
Extracurricular Activities: Baseball
Hobbies: Sarcasm, You Tube, long walks in the park
Car: Dodge Viper
Store: Target
Movie: Star Wars Saga
Musical Artist: Adele
TV Show: Sponge Bob
Cafeteria Food Must Have: Chicken Nuggets
FAST FACTS:
Last Book Read That Wasn't Required: Frog and Toad-Storybook Treasury
Person Most Admired: Jeff Wilbarger
Person You'd Like to Meet: Jim Elliot
Item always in your locker: Pink locker shelf
Top Accomplishment: Getting a girlfriend, 35 on the ACT
FUTURE:
After Graduation Plans: College
Career Goal: Mechanical Engineering
Quote from Teacher: "Eli is a great young man who is very quiet, yet confident in his daily walk and work," said David Regnier, Assistant Administrator. "He is a very diligent student who excels in every class and takes the most rigorous of class work here at Emmanuel Christian. He is exactly what we are about here at Emmanuel Christian!"
- Information is compiled for The Blade by the Educational Service Center of Lake Erie West.
Guidelines: Please keep your comments smart and civil. Don't attack other readers personally, and keep your language decent. Comments that violate these standards, or our privacy statement or visitor's agreement, are subject to being removed and commenters are subject to being banned. To post comments, you must be a registered user on toledoblade.com. To find out more, please visit the FAQ.