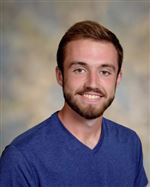 Ford
FAVORITES:
School Subject: Physics
Extracurricular Activities: Soccer, marching band, National Honor Society
Hobbies: Playing video games with my brother
Car: Ford GT Mustang
Store: Game Stop
Movie: The Blind Side
Musical Artist: Justin Timberlake
TV Show: The Big Bang Theory


FAST FACTS:
Cafeteria Food Must Have: I only pack
Last Book Read That Wasn't Required: The Magic Treehouse
Person Most Admired: My mom and dad
Person You'd Like to Meet: Wayne Rooney
Item always in your locker: Water bottles
Top Accomplishment: Player of the Year in soccer
FUTURE:
After Graduation Plans: I plan to attend an undecided college to study biomedical engineering and play soccer
Career Goal: To get a job right out of college working with prosthetics
Quote from Teacher: "Leadership is an element that is deep-rooted in Jack," said counselor, Maria Maluchnik. "His peers in the classroom, on the field, and everywhere else hold him in high regard and that regard extends into the general community. People are drawn to Jack due to his pleasant and positive nature and due to the fact that he goes out of his way to positively impact others. Add on his outstanding academic record and impressive athletic accomplishments, it is easy to see that Jack is just one of those students who makes Genoa High School a better place. We are lucky to say he is a COMET!"
- Information is compiled for The Blade by the Educational Service Center of Lake Erie West.
Guidelines: Please keep your comments smart and civil. Don't attack other readers personally, and keep your language decent. Comments that violate these standards, or our privacy statement or visitor's agreement, are subject to being removed and commenters are subject to being banned. To post comments, you must be a registered user on toledoblade.com. To find out more, please visit the FAQ.