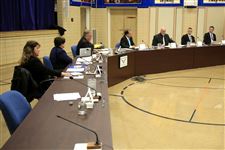 Patrick Hickey's vacant seat at the beginning of the Washington Local school board meeting at Washington Local administration building Jan. 3.
The Blade
Enlarge | Buy This Image
Washington Local Schools announced Friday that school board meetings in January, February, and March will be moved from the district administration building to the Conn-Weissenberger American Legion Post 587 at 2020 W. Alexis Rd.
The temporary move stems from new board member Patrick Hickey's ban from district property, as well as a settlement he reached with district officials in 2015 after he resigned as superintendent while under investigation into claims of misconduct.
Board members earlier this month decided to temporarily move meetings so that Mr. Hickey, who was elected to the board in November, could attend.
Guidelines: Please keep your comments smart and civil. Don't attack other readers personally, and keep your language decent. Comments that violate these standards, or our privacy statement or visitor's agreement, are subject to being removed and commenters are subject to being banned. To post comments, you must be a registered user on toledoblade.com. To find out more, please visit the FAQ.