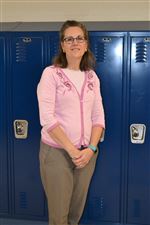 Camille Knopps
Mrs. Knopps was chosen for recognition because of her endless compassion for caring and giving to all students and staff members in the building. She is a leader that understands the students and their needs. She works tirelessly in meeting the students where they are. When she meets them where they are she differentiates her instruction to meet each student at their individual level and moves them academically to state standards and beyond. She is one of the first teachers to step up and assist the school and the staff in continual improvement. She is always thinking of new ways to advance the school, the students, and staff through academics and school activities.
"Camille's capacity to believe in each and every child has made our students more confident in their quest for their future," said Mary S. Dunne, Assistant Principal of Curriculum.
Camille holds a Master of Arts in Education from George Washington University.
- Information is compiled for The Blade by the Educational Service Center of Lake Erie West.
Guidelines: Please keep your comments smart and civil. Don't attack other readers personally, and keep your language decent. Comments that violate these standards, or our privacy statement or visitor's agreement, are subject to being removed and commenters are subject to being banned. To post comments, you must be a registered user on toledoblade.com. To find out more, please visit the FAQ.