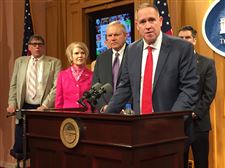 Rep. Bill Seitz (R., Cincinnati) far left, Rep. Dorothy Pelanda (R., Marysville), Rep. Bill Reineke (R., Tiffin), Tiffin City Schools Superintendent Gary Barbera, at the podium, and Rep. Craig Riedel (R., Defiance) in the back.
COLUMBUS — House Republicans on Wednesday proposed a sweeping overhaul of Ohio's educational structure, removing many of the powers of the State Board of Education and state superintendent and giving them to a new cabinet-level position under the governor.
State Rep. Bill Reineke (R., Tiffin) proposed combining much of the Department of Education, the Department of Higher Education, and the governor's Office of Workforce Transformation into a single cabinet agency, the Ohio Department of Learning and Achievement.
Mr. Reineke, accompanied by Seneca County school and economic development officials, said the realignment is necessary to provide for smoother collaboration in developing talent for the ever-changing demands of Ohio workplaces.
"We have heavy remediation rates currently, and that's just not acceptable when we need these other skills immediately," Mr. Reineke said.
The State Board, partially elected and partially appointed, would continue to exist, but its powers would be largely reduced to teacher licensing and discipline, charter school sponsorship, and oversight of schools for the blind and deaf.
The state superintendent, hired by the board, would continue with roles the state board, his boss, would give him, but decisions affecting education policy would be made by the new cabinet head to be appointed by the governor.
The bill has the backing of House Speaker Cliff Rosenberger (R., Clarksville). Mr. Reineke said the governor's office is on board, too.
Gov. John Kasich has said he would like more authority of education policy than state law and the Ohio Constitution currently give him.
"I still would love to see the state school board have the responsibility for providing certificates and things like that, but I also believe that the policy of education, primary and secondary, should be under the responsibility and purview of the governor of the state," he said recently. "We would love to see legislation passed to do that."
Tiffin City Schools Superintendent Gary Barber said the bill would prioritize career readiness in public schools.
"This will continue to challenge our K-12 system to simultaneously not only be focused on curriculum, but also be focused keenly on our students' aspirational career goals," he said. "No longer are we really in a position to graduate our students, wish them well, and hope they go out and discover their passions."
Mr. Kasich may have an ally from an unlikely source on the general concept — Richard Cordray, a Democratic candidate to replace him.
"I do believe from almost 30 years now working in state government going back to my time in the state legislature that it would be a good thing for the governor of the state of Ohio to have more direct control over education policy in this state," Mr. Cordray said. He stressed that he wasn't addressing the specifics of a bill he hadn't seen.
The proposal has been compared to reforms made in 2007 under then Democratic Gov. Ted Strickland that shifted the state chancellor of higher education to a cabinet position from the independent Board of Regents.
Stephanie Dodd, elected State Board member and running mate to one of Mr. Cordray's Democratic opponents, state Sen. Joe Schiavoni (D., Boardman), blasted the idea.
"Decisions will be made by bureaucrats instead of elected officials who have a responsibility to represent the best interest of their constituents," she said. "There is no honorable excuse for removing the elected voice of parents and students from education."
State Rep. Teresa Fedor (D., Toledo), ranking Democrat on the House Education and Career Readiness Committee, called it just another bad idea on education from Republicans.
"A bigger, mega-department of education will mean a tangled web of unresponsive, unaccountable appointed officials can more easily put special interests ahead of our children's best interests," she said. "If Ohioans think the state of education can't get any worse, this proposal is a sobering reminder that it can."
Contact Jim Provance at jprovance@theblade.com or 614-221-0496.
Guidelines: Please keep your comments smart and civil. Don't attack other readers personally, and keep your language decent. Comments that violate these standards, or our privacy statement or visitor's agreement, are subject to being removed and commenters are subject to being banned. To post comments, you must be a registered user on toledoblade.com. To find out more, please visit the FAQ.