Should electricity customers have to keep paying extra each month to subsidize noncompetitive nuclear and coal plants?
This past week the Federal Energy Regulatory Commission gave a resounding "no" to that question, dealing a huge defeat to utilities who count nuclear and coal plants among their generation assets.
That includes FirstEnergy Solutions, the subsidiary of Akron-based FirstEnergy Corp., which owns the Davis-Besse nuclear plant near Oak Harbor and the Bayshore coal-fired plant in Oregon.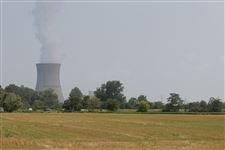 The Davis-Besse Nuclear Power Station in Oak Harbor. A ruling this week by the Federal Energy Regulatory Commission indicated by customers shouldn't need to pay to subsidize noncompetitive nuclear and coal plants.
The Blade/Jetta Fraser
Enlarge | Buy This Image
"What the FERC said was, no, this doesn't make any sense to them, and they kicked further discussion back to the RTOs," Prof. Edward Hill, a teacher of economic development, public, and finance policy at Ohio State University, said. "It said they know best where the reliability issues are in their systems."
The FERC decision left utility and coal company executives wondering what the future will hold. It also creates a murky future for Davis-Besse with its Bay Shore plant already scheduled to close by 2020.
"It's really unclear at this point. FirstEnergy Solutions has indicated they have some serious competitive concerns about the operation of those facilities," said Mark Frye, an executive with Palmer Energy, an energy consulting group in Toledo.
"I think some coal plants and nukes are going to come under significant economic pressure," he added.
Surcharges and 'bailouts'
Davis-Besse and FirstEnergy's W.H. Sammis' coal-fired plant near Stratton, Ohio has been "at risk" for some time.
In 2015, FirstEnergy went to the Public Utilities Commission of Ohio to seek a new rate plan, one that would attach extra fees to consumers' electric bills to help the two plants compete in a competitive market with low-priced, plentiful natural gas.
"The economic viability of the plants is in doubt," Donald Moul, FirstEnergy vice president of commodity operations, testified at the time during PUCO hearings held two years ago.
That rate plan was not approved but a modified one was submitted later.
Eventually in October, 2016 the PUCO approved the modified plan, and added further changes that guarantees FirstEnergy Corp. about $204 million annually in new surcharges through 2019 with an option to receive two additional years of payments.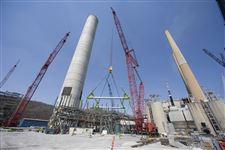 Cranes carry equipment to part of the W.H. Sammis Plant in 2008.
DORAL CHENOWETH III Enlarge
The plan was affirmed last August but then challenged in October by a coalition of groups opposed to the so-called "bailout." They also appealed the decision to the Ohio Supreme Court.
Had it been approved by the FERC, it could have cost U.S. businesses and residential customers up to $10.6 billion annually, according to the Energy Innovation and the Climate Policy Initiative.
Bruce Weston, director of the Office of the Ohio Consumers' Counsel, cheered the FERC decision.
"Proposals for subsidizing electric utility power plants — whether at the federal or state levels — are bad for the competitive electricity markets that are benefiting Ohio consumers with lower electric bills," he said in a statement.
In a statement, FirstEnergy criticized the FERC ruling and said the measure could end up hurting Ohio's manufacturing-based economy.
"Baseload coal and nuclear plants have long played an invaluable role in a well-functioning electric grid, yet the markets do not adequately compensate these assets," the company wrote. "Without timely action, more of these facilities will close prematurely, jeopardizing the ability to provide clean, reliable and affordable power to customers while harming economies across the region."
PJM Interconnection, the grid operator that oversees Ohio and 12 other states, doesn't see an imminent threat.
Instead, it sees a stable grid with strengthening reliability, plenty of power — reserve margins are approaching 30 percent above the needs of its territory — and growing diversity among the types of power being generated in its 243,000-mile territory.
"I think the bottom line issue is, yes, the system is reliable. We have a pretty healthy reserve margin," said Stu Bresler, senior vice president of operations and markets for PJM.
The economics of resources
While the Energy Department plan made it sound as though the coal and nuclear industry as a whole are threatened in a increasingly competitive market, Mr. Bresler said that isn't the case among the 1,000 companies and 1,400 power plants controlled by the Valley Forge, Pa.-based regional operator.
"Not all coal resources are uneconomical, just like all nuke resource are not uneconomical," Mr. Bresler said.
"Yes, some are economically-challenged depending on capacity, energy revenues, cost structure and location," he said. But others in the PJM footprint are making money, he said, though he declined to name them due to contractual obligations PJM has with its member utilities.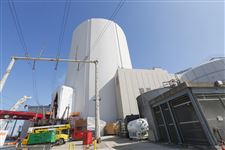 The Shield Building where the steam generator goes for installation and containment at the Davis-Besse Nuclear Power Station in 2014.
The Blade
Enlarge | Buy This Image
"Looking forward … we will have coal, we will have nuclear, and the mix will evolve," Mr. Bresler said.
Less certain is whether FirstEnergy's Ohio-based assets, Davis-Besse, the Perry nuclear generation facility near Perry, Ohio, and the Sammis plant will survive.
Federal subsidies look unlikely and the state subsidy granted by the PUCO now is under challenge in the Ohio Supreme Court.
Meanwhile, sentiment is growing in Ohio's General Assembly to end subsidies to utilities altogether.
Last May, State Rep. Mark Romanchuk (R., Ontario) introduced H.B. 247 which would eliminate "Electric Security Plans" or ESPs,and force utilities to base customer rates on wholesale power market prices.
An ESP option was included in legislation approved in 2008 and allows utilities to attach "riders" to base delivery rates that help companies grow their revenues.
Mr. Romanchuk's bill has yet to gain a Senate co-sponsor. But it has a growing coalition of backers including the Ohio Consumers' Counsel, AARP Ohio, the Northeast Ohio Public Energy Council, the Ohio Farm Bureau, the Ohio Manufacturers' Association, and the Ohio Chapter/National Federation of Independent Business.
"We started this in 1999 and it was supposed to be a just a five-year transition period. We gave the utilities billions of dollars in subsidies with a capital 'B' and now, 18 years later, they're still asking for them," said Mr. Romanchuk, adding that he was "very happy" with FERC's ruling last week.
"We've got to finish this lengthy transition period and the utilities, if they want to compete, have got to make it on their own without subsidies," he added.
Professor Hill said FirstEnergy is correct in that if Ohio's coal and nuclear plants are unable to survive sans subsidies — Ohio has two nuclear plants and 37 coal plants of varying megawatt sizes with some already slated to close — there will be a cost in jobs and economic activity.
"The competitive markets are a bit ruthless, right? We need to understand that when a noneconomic coal plant goes down, people lose jobs, communities lose revenue," Mr. Hill said.
Hypothetically, if FirstEnergy were forced to closed three plants the utility could be harmed financially to where layoffs, a bankruptcy, or even a takeover might occur.
"For the city of Akron, it gets scary," Mr. Hill said.
On the other hand, he said, FirstEnergy had a chance years ago to sell off some of its generation assets and become leaner, but chose not to.
"They took a bet that their generation would become more valuable and they hedged their bet and said coal is the way to go. That bet backfired and now they want to have the ratepayers make them whole," he said.
"Are we going to risk the rest of the Ohio economy to bail out a company that made bad decisions," he added.
In the past if any of Ohio's utilities made a bad financial decision it could just go to the state public utilities commission and ask for an increase that likely would offset that bad decision, Mr. Hill said.
But times have changed.
"You also have some people pushing back in the state legislature," he said.
"I can only speculate what will happen in the future. But the one thing we do know is there's going to be a political brawl of epic proportions down the road."
Contact Blade Business Writer Jon Chavez at jchavez@theblade.com or 419-724-6128.
Guidelines: Please keep your comments smart and civil. Don't attack other readers personally, and keep your language decent. Comments that violate these standards, or our privacy statement or visitor's agreement, are subject to being removed and commenters are subject to being banned. To post comments, you must be a registered user on toledoblade.com. To find out more, please visit the FAQ.