DUBLIN, Ohio — All the chatter leading up to the 43rd playing of the Memorial Tournament focused on perhaps the best field in the event's history.
Eight of the top 10 players in the world descended on Muirfield Village Golf Club, and the PGA Tour grouped together 12 of the biggest names in the game in four marquee pairings: Tiger Woods-Justin Rose-Jason Dufner; Rory McIlroy-Dustin Johnson-Jason Day; Phil Mickelson-Jordan Spieth-Bubba Watson; and Rickie Fowler-Justin Thomas-Patrick Reed.
Someone forgot to tell the rest of the 120-man field not to show up.
RELATED CONTENT: On verge of disaster, Tiger Woods battles back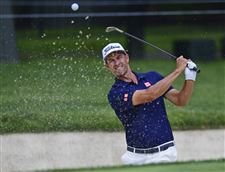 Adam Scot hits out of a sand trap on the eighth hole during the first round of the Memorial golf tournament.
ASSOCIATED PRESS Enlarge
After 18 holes, the leaderboard is filled with no-names and questions of 'Who's that guy?' Save for Hideki Matsuyama, the 10th-ranked player in the world, the tournament produced a snoozer of a Thursday.
Matsuyama, Abraham Ancer (No. 196 in the world), and Joaquin Niemann (No. 406) shot matching 7-under 65s, though they got to their final numbers in far different fashion.
Matsuyama, the 2014 Memorial champion, was 2-under through 13 and finished birdie, birdie, birdie, birdie, eagle, par. Ancer, in the third group off at 7:42 a.m., held the lead for most of the day. He was 1-over after four holes before closing with a flurry of eight birdies in 14 holes. Niemann, who's only 19 years old and playing in his fifth tournament as a professional, birdied eight of his final 16 holes after bogeying the par-4 second.
"I actually have great memories of this place," said Ancer, who's making his first appearance in the Memorial. "My freshman year of college I got the Jack Nicklaus Award, and I got to come here on Sunday and get that award from Jack. That was incredible. It was like Deja Vu walking the fairways, watching from outside and now playing. It's a dream come true. Today I felt great. I hit the ball really good off the tee, hit my irons well, and I putted well and scrambled really good. When you do that, it's usually a pretty good round."
Beau Hossler is fourth at 6-under, Jamie Lovemark, Grayson Murray, Kyle Stanley, and Lucas Glover are tied for fifth at 5-under, and a seven-person logjam that includes Muirfield Village member Jason Day and former Buckeye Ryan Armour is tied for ninth at 4-under.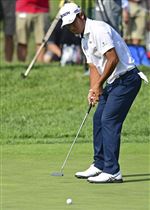 Hideki Matsuyama follows his putt on the 18th hole during the first round of the Memorial golf tournament Thursday, May 31, 2018, in Dublin, Ohio.
ASSOCIATED PRESS Enlarge
Tiger Woods grinded out a round of even par after being 4-over through his first seven holes. He's tied for 47th along with Thomas, the top-ranked player in the world, Fowler, Johnson, and Adam Scott.
"I fought back, and I didn't really have much starting out," Woods said. "Didn't really feel my swing very well and, consequently, I hit it both ways, mainly left. I wasn't rotating very well, made a few tweaks, made a couple birdies, and, lo and behold, I finished at even par, which I know it's a long way back, but at least I've got a fighting chance."
A trio of prominent players will have to fight just to make the cut. McIlroy and Mickelson are 2-over and Spieth is 3-over. All three stumbled on the back nine.
McIlroy was 1-under on the 14th tee before doubling the par 4 and bogeying No. 18. Mickelson was in the top 10 after birdieing four of his first eight holes. But a double-bogey on the par-4 ninth was the beginning of the end. He didn't have a single birdie on the back en route to a 40. Spieth was 2-under through five, double-bogeyed the sixth and eighth holes, and hit his tee shot in the water on No. 18.
"I was listening to Tiger talk about trying to stay patient and seeing it's all there," McIlroy said. "It's just about letting it happen and maybe not trying too hard. If I can just sort of freewheel a little bit like I did that last round at Bay Hill, then I think good results are on their way."
Fifty-four holes remain. But if Thursday offered a preview of the final three rounds, Friday will be the last day of marquee groups.
"There's so much buzz and hype around the group on a Thursday and Friday when there doesn't need to be," McIlroy said. "And that could affect some players."
Contact Kyle Rowland at krowland@theblade.com, 419-724-6110 or on Twitter @KyleRowland.
Guidelines: Please keep your comments smart and civil. Don't attack other readers personally, and keep your language decent. Comments that violate these standards, or our privacy statement or visitor's agreement, are subject to being removed and commenters are subject to being banned. To post comments, you must be a registered user on toledoblade.com. To find out more, please visit the FAQ.