DUBLIN, Ohio — Jason Day might want to get sick more often.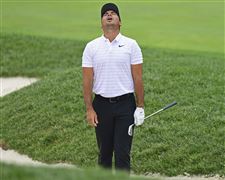 Jason Day reacts after a shot from the sand trap on the 18th hole during the second round of the Memorial golf tournament Friday in Dublin, Ohio.
AP Enlarge
The Muirfield Village member shot his second-consecutive 4-under-par 68 on Friday and sits three shots behind leaders Joaquin Niemann and Kyle Stanley as the Memorial Tournament heads to the weekend.
Day, who lives in nearby Westerville, withdrew from the pro-am Wednesday with a fever. He lost 10 pounds over a couple days after struggling to eat because of a sore throat.
Eleven birdies in the first 36 holes acted as a cure-all.
"I feel good about my game," said Day, who's ranked eighth in the world. "I've had two wins this year, so I'm not searching for a win. And you're coming here trying to do a little bit extra and push it a little bit. Coming off a couple wins eases tensions. I haven't had great finishes here, so the expectation of me playing is a little bit different this year."
Day's record at Muirfield Village is less than impressive, especially when you consider he's a member and lives 20 minutes from the course. In nine previous starts, he's missed the cut three times with a career-best finish of tied for 15th. Day's only been under par in 13 of 32 career rounds, and that includes the past five.
"I just feel a little bit different this year," Day said. "My game feels different. My short game is where it needs to be, and it's shown over the last two days.
"This is my home course, and I think I just sucked on it for a long time. I don't think there was any reason why. I just didn't really play well. It annoys me. I want to play well in front of my family."
PHIL THE THRILL: Phil Mickelson is known for his freewheeling style, which elicits oohs, aahs, birdies, and bogeys.
The first two rounds of the Memorial certainly haven't strayed from that narrative.
Mickelson was 4-under through eight holes, 2-over through 18, 3-over through 26, and 4-under through 36. He's tied for 35th, seven shots off the lead after shooting a 6-under 66 in the second round, tied for lowest of Friday.
Through two rounds, Mickelson has 12 birdies, six bogeys, and one double bogey. He shot a front-nine 30 in the second round — his second nine — with six birdies and zero bogeys to surge inside the cut line.
"I've been a little bit up-and-down," Mickelson said. "But the course is just in incredible shape. When you get it going, you can make birdies, and when you hit some bad shots you're going to make some doubles, which I've done both."
QUOTABLE: "I have no desire to play on Monday at all." — Adam Scott, who's played in 67 consecutive majors, on avoiding U.S. Open sectional qualifying Monday at two Columbus-area golf courses. He's currently ranked 61st in the world. The top 60 after the Memorial will be exempt into the U.S. Open.
Contact Kyle Rowland at: krowland@theblade.com, 419-724-6110, or on Twitter @KyleRowland.
Guidelines: Please keep your comments smart and civil. Don't attack other readers personally, and keep your language decent. Comments that violate these standards, or our privacy statement or visitor's agreement, are subject to being removed and commenters are subject to being banned. To post comments, you must be a registered user on toledoblade.com. To find out more, please visit the FAQ.