CLAY 56, LIMA SENIOR 55
LIMA — In a battle between Three Rivers Athletic Conference squads, Olivia Henneman-Dallape scored 19 points and Elizabeth Vincent had 14 points to guide the Eagles to an overtime girls basketball victory on Thursday night.
Nakiya Sigman hit six 3-pointers and finished with 20 points for the Spartans, and Destiny McDonald had 14 points.
WHITMER 68, FREMONT ROSS 45
The Little Giants (9-4, 3-4 TRAC) pulled within four points, but Whitmer (10-3, 5-2) closed the game on a 26-6 run and pulled away.
Ahlia Simms led Fremont Ross with 17 points, and Jazmine Bulger chipped in 16.
Abby Hickey had 20 points for Whitmer. Maddie Brown and MaJiya Whitman added 14 points each.
CENTRAL CATHOLIC 60, FINDLAY 30
Maverick Delp (12 points) and Grace Crawford (11) led the host Irish to a comfortable win. Central, which improved to 10-2 overall and 6-1 in the TRAC, led 35-5 at the half.
SOUTHVIEW 43, MAUMEE 26
Charnae Merrell scored 12 points as the Cougars (11-1, 7-1 NLL) won in Northern Lakes League play in Sylvania.
Brynn Brown and Lauren Johnson both scored six for Maumee.
SPRINGFIELD 49, BOWLING GREEN 17
Tia Crape and Cierra Harris both scored nine points for the balanced Blue Devils, who had 10 players score at home.
Audrey Lerch led the Bobcats with six points.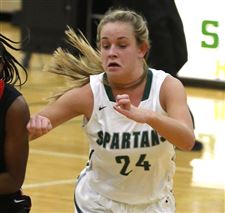 Taylor Jagielski, shown in a game earlier this season, scored 13 points for Start in a City League win over Woodward Thursday.
THE BLADE
Enlarge | Buy This Image
START 52, WOODWARD 12
Taylor Jagielski finished with 13 points for the Spartans, who won on the road as eight different players scored in the City League game.
EASTWOOD 62, WOODMORE 45
ELMORE — Hannah Owens scored 17 points, Jamie Schmeltz 16, Kelley Turk 11, and Hannah Limes 10 for the visiting Eagles (8-4, 5-2 NBC) in Northern Buckeye Conference play.
Brooke Allen led the Wildcats (6-6, 3-5) with 14 points. Nora LaMunyon added 11.
LAKE 48, OTSEGO 40
MILLBURY — Four players scored for the Flyers, led by Mya Staczak with 24 points and Kortney Ellison with 11.
Holly Roe led Otsego with 12 points.
ELMWOOD 45, GENOA 33
GENOA — Zoe Shank scored 17 points for the visiting Royals, who led 35-19 at halftime.
Tatum Neumann led the Comets with 12 points. Caitlyn Gose added 11.
DANBURY 44, OTTAWA HILLS 30
Robin Skinner scored 14 points as the Lakers (8-6, 6-2 TAAC) won a battle for second place in the Toledo Area Athletic Conference.
Danbury outscored the Green Bears 10-4 in the final quarter.
Catherine Byrne paced Ottawa Hills (5-6, 5-3) with eight points.
EMMANUEL CHRISTIAN 41, NORTHWOOD 35
Sydney McCauley hit four 3- pointers and scored 22 points to lead the visiting Warriors.
For the Rangers, Olivia Randall finished with 15 points and Kirsten Dombrowski added 12.
MAUMEE VALLEY 65, GIBSONBURG 35
Shannon Herrmann scored 21 points, Ella Foster 16, and Emma Daugherty 13 as the Hawks (6-7, 6-2 TAAC) won at home.
Karina Seem led the Golden Bears (3-8, 3-5) with six points.
Guidelines: Please keep your comments smart and civil. Don't attack other readers personally, and keep your language decent. Comments that violate these standards, or our privacy statement or visitor's agreement, are subject to being removed and commenters are subject to being banned. To post comments, you must be a registered user on toledoblade.com. To find out more, please visit the FAQ.