BOWLING GREEN 44, GIBSONBURG 42
GIBSONBURG — Audrey Lerch had 13 points as the Bobcats edged the Golden Bears in nonleague play.
Bowling Green (6-15) had one-point advantages in the first and fourth quarters for the difference.
Becca Morelock and Karina Seem each had 13 points to lead Gibsonburg (5-15). Emily Roberts added 10.
ANTHONY WAYNE 47, GENOA 30
GENOA — Olivia Woman had 15 points to lead the Generals by the Comets in nonleague action.
Tatum Neumann had 11 points for Genoa.
OAK HARBOR 48, ELMWOOD 32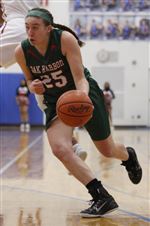 Shown in a game last season, Oak Harbor's Ashley Riley had 16 points in a 48-32 nonleague win over Elmwood Tuesday night.
The Blade
Enlarge | Buy This Image
BLOOMDALE — Ashley Riley had 16 points as the Rockets got past the Royals in nonleague action.
Logan Harris had 14 points for Oak Harbor (17-4).
Zoe Shank led Elmwood (15-6) with 10 points.
WAUSEON 61, ROSSFORD 55
WAUSEON — Sydney Zirkle had 19 points as the Indians held off the Bulldogs in a nonleague contest.
Sam Aeschliman added 18 points and Rylee Campbell had 13 for Wauseon.
Megan Dunne had 23 points and Haliegh Peters added 16 for Rossford.
LIBERTY CENTER 50, PETTISVILLE 48
LIBERTY CENTER — Peyton Spieth had 18 points as the Tigers nipped the Blackbirds in a nonleague game.
Olivia Leatherman added 14 points for Liberty Center.
Morgan Leppelmeier had 15 points and Sami Tilley finished with 13 points for Pettisville.
BEDFORD 49, IDA 41
IDA — Madison Norton had 18 points as the Kicking Mules beat the Bluestreaks.
Lynsey Spotts added 13 points for Bedford (12-4).
The Bluestreaks (15-2) were paced by Kaylyn Carsten and Taylor Wegner with 13 points, and Alex Elliott with 10.
Guidelines: Please keep your comments smart and civil. Don't attack other readers personally, and keep your language decent. Comments that violate these standards, or our privacy statement or visitor's agreement, are subject to being removed and commenters are subject to being banned. To post comments, you must be a registered user on toledoblade.com. To find out more, please visit the FAQ.