BOWSHER 53, WAITE 48
Keegan Norman led the way with 20 points as the Rebels (9-9, 6-3 City League) hung on in a close boys basketball league game Tuesday.
Dominique Booth paced the Indians (7-12, 2-7) with 12 points. Mark Randall added 11 points, and DeWayne Wells scored 10.
START 57, WOODWARD 49
Brandon Lewis led four scorers in double figures with 13 points as the Spartans beat the host Polar Bears in CL play.
Tyrik Barbine had 11 points for Start (15-3, 8-1 CL), and Alex Perry and Taviean McDonald finished with 10 points each.
C.J. Robinson led Woodward (3-19, 2-5) with 18 points.
ROGERS 63, SCOTT 52
Tristan Smith's 18 points led the way as the Rams used a strong second quarter to put away the game.
Ketaan Wyatt had 16 points for Rogers (7-11, 7-2 CL), and Da'Sean Nelson added 13.
Marquise Brown scored 16 points for the Spartans (2-17, 2-7), and Brycen White added 13 points. Cedric Williams had 11.
FINDLAY 43, CENTRAL CATHOLIC 33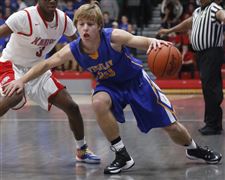 Findlay's Ryan Nunn, shown in a game last season, scored 18 points in a 43-33 win over Central Catholic on Tuesday.
The Blade
Enlarge | Buy This Image
Ryan Nunn finished with 18 points as the Trojans beat the Irish in TRAC action.
Ian Schumma added 10 points for Findlay.
Cameron Awls had 10 points to lead Central Catholic (6-11, 2-8 TRAC).
ANTHONY WAYNE 52, PERRYSBURG 47
Max Bradfield scored 17 points as the Generals beat the visiting Yellow Jackets in overtime in Northern Lakes League play.
Andrew Murphy added 14 for Anthony Wayne (13-5, 8-3 Northern Lakes League).
Ian Riddle led Perrysburg (8-11, 5-7) with 16 points. Ben Boros had 13 points for Perrysburg, and Seth Morgan added 12.
NORTHVIEW 65, BOWLING GREEN 46
Reece Lazar had 18 points, and Colton Snow had 17 points and 11 rebounds to lead the host Wildcats (17-2) past the Bobcats in an NLL game game.
Alek West and Luke Pawlak each scored 10 for Northview.
Isaac Elsasser had 22 points and Bryce Hoehner had 12 points for Bowling Green.
MAUMEE 38, NAPOLEON 37
MAUMEE — David Walker had 11 points as the Panthers edged the Wildcats in NLL action.
Landon Willeman finished with 14 points for Napoleon.
EASTWOOD 61, OTTAWA HILLS 53
Logan Frobose picked up 12 points as the Eagles beat the Green Bears in nonleague play.
Tyler Haas added 11 points for Eastwood (12-6).
Eliot Cummings had 17 points for Ottawa Hills (10-8). John Kight and James Silk each scored 13 points.
WOODMORE 65, OLD FORT 55
ELMORE — The Wildcats withstood a 25-point effort from Jacob Webb and won in nonleague play.
Drew Burner led Woodmore (15-5) with 21 points, followed by Mitchell Miller with 17 and Hayden Heidebrink with 14.
Zach DeWese had 12 points for Old Fort (10-9).
NORTHWOOD 63, LAKOTA 60
Jay Moten had 15 points as the Rangers beat the Raiders in a nonleague game.
Dante Dixon finished with 12 points and Logan McDermott had 11 for Northwood (2-18).
Josh Kagy had 28 points for Lakota (2-17). Tyler Wehrle and Tyler Gabel each added 10.
EMMANUEL CHRISTIAN 62, MONROEVILLE 37
Jailon Walker had 15 points as the Warriors downed the Eagles in nonleague play.
Caden Williams added 12 points and Gunnar Parmelee finished with 11 for Emmanuel Christian (8-10).
Chayce Schaub had 19 points for Monroeville (1-19).
OTSEGO 45, GIBSONBURG 39
TONTOGANY — Will Varner scored 15 to lead the Knights past the Golden Bears.
Austin Meier chipped in 10 points for Otsego (13-6).
Addison Weaver had 25 points for Gibsonburg (5-12).
WHITEFORD 77, MONROE 61
OTTAWA LAKE, Mich. — Cameron Iott tallied 29 points as the Bobcats routed the Trojans in a nonleague game.
Thomas Eitniear added 17 points and Hunter Lake had 14 for Whiteford (13-2).
Aaron Carter finished with 15 points, Jalen Johnson had 13, and Johnny Hughes 10 for Monroe (1-13).
Guidelines: Please keep your comments smart and civil. Don't attack other readers personally, and keep your language decent. Comments that violate these standards, or our privacy statement or visitor's agreement, are subject to being removed and commenters are subject to being banned. To post comments, you must be a registered user on toledoblade.com. To find out more, please visit the FAQ.