Eddie Colbert took the game-deciding shot. Then he closed his eyes.
"I didn't know if it was going in," Colbert said. "But I was glad it did."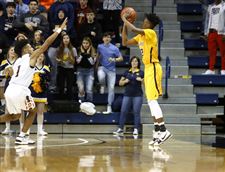 Whitmer's Edward Colbert drains his game-winning 3-pointer against Southview.
The Blade/Kurt Steiss
Enlarge | Buy This Image
So was the Whitmer boys basketball team, which used Colbert's 3-pointer with seven seconds left in overtime to upset Southview 44-42 in a Division I district final Saturday night at Savage Arena.
Whitmer coach Ryan Brown said that his team's final offensive set that resulted in Colbert's game-winning basket did not resemble the play he drew up. But as the play broke down, Jasean Rader drove to the basket, then found Colbert open in the left corner.
"[The shot] did not look as if it was going in from the angle I had," Brown said. "But it hit nothing but net."
And that is the reason the Panthers, who improved to 21-5, upset the No. 6 team in Division I. Whitmer will now play No. 5 St. John's Jesuit, which defeated Anthony Wayne on Saturday afternoon, in a regional semifinal at 7 p.m. Thursday at Savage Arena.
Colbert finished with 15 points to lead the Panthers while Trey Syroka added 14, thanks in part to 3-for-3 shooting on 3-pointers.
PHOTO GALLERY: Whitmer 44, Southview 42
VIDEO: Game-winning 3-pointer sends Whitmer to regionals
Southview (23-2), which got 13 points from Ryan Fries and 12 by Tehree Horn, was left shaking its head after seeing a 14-game winning streak snapped.
"Give him credit for hitting a wide-open jump shot," Southview coach Stan Joplin said of Colbert. "When it left his hand, you knew it would go in.
"If we would have played solid defense [all the way through the possession], that wouldn't have happened, but we started scrambling."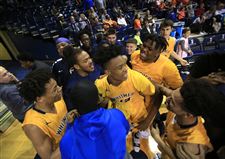 Whitmer players celebrate with their teammate Edward Colbert, center, after his game-winning shot in Saturday's district championship game against Southview.
The Blade/Kurt Steiss
Enlarge | Buy This Image
And the Cougars had their chances to win the back-and-forth contest that featured four ties and 11 lead changes.
Southview led 9-7 after the first quarter, then used a 7-0 run late in the second to build a 19-11 advantage with 2 minutes, 5 seconds still to play. Whitmer needed a layup by Syroka just before the buzzer to cut its deficit to 21-17 at halftime.
"We had Eddie and Riley [Keller] sit most of the second quarter with fouls," Brown said. "And we were only down three.
"We had an unbelievable number of paint shots that didn't go in, but we stuck with them."
The two teams took turns trading punches in the third quarter: Whitmer scored six points to cut its deficit to one, only to see Southview bounce off the mat with five straight points.
Late in the quarter Colbert scored seven straight points, capped by a steal and a layup that gave the Panthers a 30-29 lead with 35.2 seconds left in the period.
"He really stepped up in the second half," Brown said of Colbert. "He's a mismatch for a lot of teams because he can play around the basket and also shoot the 3."
But a 3-pointer by Tyson King just before the horn sounded put the Cougars back on top 32-30 entering the fourth quarter.
And that final period in regulation was tight because both offenses struggled. Colbert made the first of two free throws with 1:24 left to tie the score at 36-36. Southview then held the ball for the game's final shot, only to see a desperation 3-pointer at the buzzer fall shot.
"We had our opportunities," Joplin said. "At the end of regulation we set up a play, but we didn't run it correctly.
"You have to execute, and we didn't execute down the stretch."
In the overtime Southview's Fries made two free throws, only to see Syroka drain a 3 to give the Panthers a lead. And there were four more lead changes in the extra session, with two free throws by Horn with 51 seconds to play setting up Colbert's dramatic shot — and the game's final lead change.
VIDEO: Division I district final
"I was very confident when I took that shot," said Colbert, whose father played collegiately at Bowling Green. "But I was glad I made it."
After Colbert's basket, Southview's Fries took a half-court shot that came dangerously close to going in before bouncing off the front rim, denying the Cougars the school's first-ever regional berth.
"That's the thing that is disappointing: You don't get many opportunities like this, and you want to take advantage of it," Joplin said. "We were there, and we didn't take advantage of it."
Contact John Wagner at jwagner@theblade.com, 419-724-6481, or on Twitter @jwagnerblade.
Guidelines: Please keep your comments smart and civil. Don't attack other readers personally, and keep your language decent. Comments that violate these standards, or our privacy statement or visitor's agreement, are subject to being removed and commenters are subject to being banned. To post comments, you must be a registered user on toledoblade.com. To find out more, please visit the FAQ.