Archbold withstood an early offensive outburst from fifth-ranked Cardinal Stritch, and the 11th-ranked Blue Streaks answered with their own scoring wave, then rolled to a 74-65 victory in Saturday's Division III boys district basketball championship game played to a packed crowd at Central Catholic's Sullivan Center.
All-district senior guard Bryce Williams scored 15 of his game-high 30 points in the pivotal second quarter for Archbold (21-3), which turned the game's momentum by outscoring the Cardinals 20-8 that period.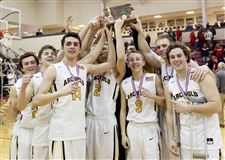 Archbold players hold their trophy aloft Saturday after beating Cardinal Stritch in the Division III boys basketball northwest district final at Central Catholic High School in Toledo. Archbold won, 74-65.
The Blade/Katie Rausch
Enlarge | Buy This Image
Junior forward Austin Wiemken had 18 points and a game-high eight rebounds, and senior point guard Eli Miller added 13 points for Archbold, which advanced to the 8 p.m. regional semifinal Wednesday at Bowling Green State University's Stroh Center.
PHOTO GALLERY: Archbold 74, Cardinal Stritch 65
"They give you extreme pressure, and I thought we did a really good job against it," 34th-year Archbold coach Doug Krauss said. "We made our free throws when we had to, and now we get to play again. This is a lot of fun. They don't call it the Sweet 16 for nothing."
The Blue Streaks, who last season advanced to the state final four for the fifth time under Krauss, will meet Ottawa-Glandorf (24-1), who beat Coldwater 87-67 in a district final at Lima Senior.
VIDEO: Division III district championship game
"Stritch was really effective early, and they were stronger than we were," said Krauss, whose teams have reached 10 regionals. "We gave them a little bit of a zone [defense], and that didn't work, so we said, 'Boys, if we're going to get out of here, we've got to play man, and we've just got to toughen up.' That's basically what we did."
Ahead 36-30 at halftime after a buzzer-beating 3-pointer from Rigo Ramos, who scored five points, Archbold opened the third quarter on Williams' fourth 3-pointer of the game to take a nine-point lead.
Stritch (23-2) — which this season won its first boys basketball league championship in school history, going 14-0 in the Toledo Area Athletic Conference — made occasional runs at the Blue Streaks during the final two quarters but never got closer than five points.
The loss spoiled a superb 28-point scoring effort from Cardinals junior point guard Jordan Burton. All-district sophomore guard Joey Holifield was plagued by foul trouble and finished with 12 points for Stritch, and junior guard-forward Little Anderson added nine points and six rebounds for the Cards, who saw their 15-game winning streak snapped.
Stritch opened the game on fire offensively, hitting nine of its first 10 shots from the field. Burton hit two 3-pointers and went 5 for 5 in scoring 12 points in the first quarter.
When Anderson sank two free throws with 57.7 seconds left in the period, the Cardinals owned their largest lead at 22-13.
Then two major momentum changers took place at the start of the second quarter, as Stritch got into instant foul trouble, and Williams got red hot.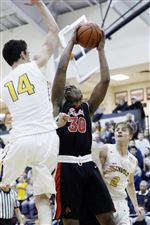 Archbold's Austin Wiemken (14) attempts to block Cardinal Stritch's Joey Holifield (30) in the Saturday Division III boys basketball district final at Central Catholic High School in Toledo.
The Blade/Katie Rausch
Enlarge | Buy This Image
Anderson drew his third foul by the 5:09 mark, and Holifield was called for his second foul 28 seconds into the period.
Williams, who had been quiet until that point with just two first-quarter points, exploded for 15 in the second quarter, including three 3-pointers during what became a game-changing 23-7 run by the Blue Streaks.
"It seemed like every shot was going in for them in the first quarter, but we knew they weren't going to continue to hit at that rate the whole game," Williams said. "So we just kept our composure, weathered the storm, and just kept attacking the basket. Getting them in foul trouble was huge, because Holifield, Burton and Anderson are great players.
"I just let the game come to me. I don't like to rush any shots. I don't care how many points I score. I play with my teammates, and they were feeding me the ball."
When backup guard Jeron Williams hit a 3-pointer to close the third quarter, Archbold had its biggest lead at 55-44 entering the fourth.
Stritch, with Burton scoring 11 fourth-quarter points, was within 68-63 with 2:25 left, but the Blue Streaks closed things out with solid ball handling by making 13 of 18 foul shots during the final eight minutes.
"The foul trouble didn't allow us to defend the way we wanted to," Stritch coach Jamie Kachmarik said. "I thought we were doing a pretty good job of defending, but that wasn't the way it was called, and that got us in a bind a little bit.
"It was tough. They're a great team, they made some shots, and they made that run. It's a game of runs. We made the first one, and they made the next one, and then they're just a good team. They're going to make foul shots. I can't complain at all. Our kids gave it every ounce of effort."
Archbold was 22 of 45 (49 percent) from the field, including 9 of 20 on 3-pointers, and was 21 of 26 at the foul line. The Streaks edged Stritch 25-24 in rebounding and committed only four turnovers while forcing six.
"I'm really happy for us," Wiemken said. "We're moving on. Last year we made it to states, and it was definitely a goal to make through districts this year. I'm excited for our next game."
The Cardinals were 25 of 49 (51 percent) from the field, including 7 of 14 on 3-pointers, and were 8 of 11 at the line. Terrance Taylor and Collin Yost each contributed six points for Stritch.
Contact Steve Junga at sjunga@theblade.com, 419-724-6461, or on Twitter @JungaBlade.
Guidelines: Please keep your comments smart and civil. Don't attack other readers personally, and keep your language decent. Comments that violate these standards, or our privacy statement or visitor's agreement, are subject to being removed and commenters are subject to being banned. To post comments, you must be a registered user on toledoblade.com. To find out more, please visit the FAQ.