COLUMBUS — In a sea of blue gloves and discarded sticks, nobody moved.
Some St. Francis de Sales players lay prone on the Nationwide Arena ice. Others hunched over at the waist. A few watched the bedlam going on near center ice. Almost no one spoke.
The song "Cleveland Rocks" blared from the sound system.
Toledo St. Francis de Sales hockey player Gabe Barrow kneels on the ice after the Knights loss to Cleveland St. Ignatius during the second overtime period of their championship game at Nationwide Arena in Columbus on Saturday.
Blade/Andy Morrison Enlarge
The Knights played their best game — and pushed top-ranked Cleveland St. Ignatius to the brink — only to have a championship taken away in a heartbreaking instant.
St. Ignatius defenseman Greg Langermeier scored a power-play goal 37 seconds into double overtime to beat the No. 2 Knights 5-4 on Saturday in the Ohio High School Athletic Association state final.
The Wildcats clinched their third consecutive championship, a run during which they have knocked out St. Francis all three times and in back-to-back championship games.
This time, St. Francis was inches away.
"There are no regrets, and I'm proud of them," St. Francis coach Chris Varga said. "From a coach, what [more] do you ask for than their best? That was their best."
VIDEO: Hockey state championship game
St. Ignatius had beaten St. Francis 5-1 in each of the past two postseasons, and scored a 6-1 victory against the Knights earlier this season.
But the final had both teams thinking every rush could change the game. The game was tied four times: 1-1, 2-2, 3-3, and 4-4. There were five man-advantage goals, three lead changes in the third period, and two critical penalties taken in the first overtime.
In double overtime, with the Knights trying desperately to defend a 4-on-3 penalty kill, Langermeier skated through the defense and scored the title clincher.
For nine St. Francis seniors, the finish was just narrowly out of reach, but they left with a sense of accomplishment regardless.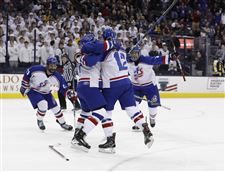 Toledo St. Francis de Sales hockey players celebrate a goal by Matthew Barrow against Cleveland St. Ignatius hockey.
Blade/Andy Morrison Enlarge
"I don't think that I failed when it came to coming to play for St. Francis," captain Tim Organ, Jr., said. "I feel like every year was a new year. We played very well every single year, got to where we wanted to get every single year.
"We may have come up short, but it's all part of growing. You can't grow a program if there's not failure."
The Knights' power play unit struck in the first to tie the game, then again in the second to take a 2-1 lead, but it lasted fewer than 90 seconds before St. Ignatius had tied it again.
After the Wildcats' power play scored to take a 3-2 edge, St. Francis forward Hunter McKie pounced on a rebound to tie it at 3.
Again, the momentum was short-lived. St. Francis was whistled for a too many men on the ice penalty two minutes later, and a line change that temporarily left the Knights at 5-on-3 in their own zone led to a wraparound goal by Michael McCaffrey to establish a 4-3 St. Ignatius lead.
In fitting fashion, that score lasted fewer than two minutes. Gabe Barrow sped along the left wing and sent an inch-perfect shot over the glove of Benny Savarino to tie the game for the fourth time.
"It's no secret that they're a good hockey team," Barrow said. "We knew we would have to keep fighting back. We knew if they got one, we would have to get one. It was just tough because we felt like we were always trying to crawl out of a hole."
Despite a dangerous chance — and a struck post – the game went into overtime.
The Knights earned a power-play chance in the 5-on-5 first overtime, but the Wildcats killed it off, and their breakaway chance at the end of it forced St. Francis to take a penalty.
The Knights defended the first 42 seconds without incident, sending the game into the decisive second overtime.
With the open ice of 4-on-4 in double overtime, the space proved to be too much.
And so the Knights' season ended, just one goal, one shift, and one moment short of their ultimate goal.
"The hockey gods weren't with us today," Organ said. "But we played as well as we could've. I'm very proud of this team."
Contact Nicholas Piotrowicz at: npiotrowicz@theblade.com, 419-724-6110, or on Twitter @NickPiotrowicz.
Guidelines: Please keep your comments smart and civil. Don't attack other readers personally, and keep your language decent. Comments that violate these standards, or our privacy statement or visitor's agreement, are subject to being removed and commenters are subject to being banned. To post comments, you must be a registered user on toledoblade.com. To find out more, please visit the FAQ.