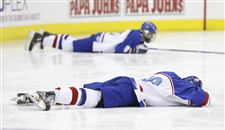 St. Francis de Sales player Matthew Snyder (19) lays on the ice after the Knights lost the state championship game to Cleveland St. Ignatius in double overtime.
The Blade/Andy Morrison
Enlarge | Buy This Image
Hockey
Double OT heartbreak for St. Francis
COLUMBUS — In a sea of blue gloves and discarded sticks, nobody moved.
Some St. Francis de Sales players lay prone on the Nationwide Arena ice. Others hunched over at the waist. A few watched the bedlam going on near center ice. Almost no one spoke.
The song "Cleveland Rocks" blared from the sound system.
The Knights played their best game — and pushed top-ranked Cleveland St. Ignatius to the brink — only to have a championship taken away in a heartbreaking instant. FULL STORY ■ VIDEO HIGHLIGHTS

Boys Basketball
Colbert 3 gives Whitmer OT win. district title
Eddie Colbert took the game-deciding shot. Then he closed his eyes.
"I didn't know if it was going in," Colbert said. "But I was glad it did."
So was the Whitmer boys basketball team, which used Colbert's 3-pointer with seven seconds left in overtime to upset Southview 44-42 in a Division I district final Saturday night at Savage Arena. FULL STORY ■ PHOTO GALLERY ■ VIDEO HIGHLIGHTS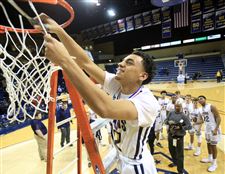 Kyren Bolden of St. John's Jesuit cuts his portion of the net after the Titans defeated Anthony Wayne to a win a district championship at Savage Arena.
The Blade/Kurt Steiss
Enlarge | Buy This Image
St. John's moves on to regional with win over Anthony Wayne
At first glance, it may appear that the St. John's Jesuit boys basketball team appeared to blow out Anthony Wayne 41-21 in the Division I district championship game Saturday afternoon at Savage Arena.
But do not be deceived: For three quarters, the Generals put a scare into the team ranked No. 5 in the state.
"It was a definite struggle," St. John's coach Ed Heintschel said after his team claimed its 10th straight victory and earned its 13th district title in 19 years. FULL STORY ■ PHOTO GALLERY ■ VIDEO HIGHLIGHTS
Williams leads Archbold over Cardinal Stritch
Archbold withstood an early offensive outburst from fifth-ranked Cardinal Stritch, and the 11th-ranked Blue Streaks answered with their own scoring wave, then rolled to a 74-65 victory in Saturday's Division III boys district basketball championship game played to a packed crowd at Central Catholic's Sullivan Center.
All-district senior guard Bryce Williams scored 15 of his game-high 30 points in the pivotal second quarter for Archbold (21-3), which turned the game's momentum by outscoring the Cardinals 20-8 that period.
Junior forward Austin Wiemken had 18 points and a game-high eight rebounds, and senior point guard Eli Miller added 13 points for Archbold, which advanced to the 8 p.m. regional semifinal Wednesday at Bowling Green State University's Stroh Center. FULL STORY ■ PHOTO GALLERY ■ VIDEO HIGHLIGHTS
Guidelines: Please keep your comments smart and civil. Don't attack other readers personally, and keep your language decent. Comments that violate these standards, or our privacy statement or visitor's agreement, are subject to being removed and commenters are subject to being banned. To post comments, you must be a registered user on toledoblade.com. To find out more, please visit the FAQ.