A junior sprint standout for the Bulldogs, Clark led Rossford to a second-place team finish at the Northern Buckeye Conference track and field meet at Lake High School last Saturday by contributing 40 of the Bulldogs' 117 points.
Clark won the 100-meter dash in 12.85 seconds, the 200 in 26.75, the 400 in 1 minute, 1.20 seconds, and anchored Rossford's winning 1600 relay team, which set an NBC record with a time of 4:12.24.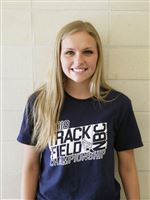 Kaitlyn Clark
A state qualifier last year in the 400 and as part of Rossford's 1600 relay squad, Clark's personal records in her three individual races are 12.59 in the 100, 25.50 in the 200, and 57.29 in the 400, the latter earning her an eighth-place finish in the state in 2017.
Clark, who carries a 3.27 grade-point average in the classroom, also plays volleyball and is a cheerleader for the Bulldogs.
"Katie is a happy, fun-loving person who also has a drive and fire in her to be the best at what she does," Rossford track coach Todd Eckel said. "Katie works hard every day in practice, never misses a thing, and always leads our workouts.
"She has spent most of her career running just behind her legendary teammate, Regan Clay, who is now running track in the SEC at Vanderbilt. Being great and doing her very best matters to Katie. She is a wonderful, driven young lady who has maximized her talents and is now leaving her own mark, and creating her own legacy, on the northwest Ohio and state track scene."
Guidelines: Please keep your comments smart and civil. Don't attack other readers personally, and keep your language decent. Comments that violate these standards, or our privacy statement or visitor's agreement, are subject to being removed and commenters are subject to being banned. To post comments, you must be a registered user on toledoblade.com. To find out more, please visit the FAQ.