BATTLE CREEK, Mich. — Kris Hubbard isn't one to make excuses.
After watching her Whiteford Bobcats fall 7-3 in a Michigan High School Athletic Association Division 4 state quarterfinal to a young Centreville team, Hubbard offered a simple explanation of what happened.
"We got beat by a better team," Hubbard said.
VIDEO: Whiteford softball loses in quarterfinals to Centreville
The Bulldogs had 11 hits, taking advantage of a handful of Bobcat miscues in the field, and making plays themselves when they had to. They also had a pitcher, sophomore Hannah Duchene, who refused to give up a big hit when the Bobcats needed it.
"Centreville is young and very talented," Hubbard said.
The Bobcats (23-13-1) were making their third consecutive appearance in the quarterfinal round but looked nervous from the first pitch. Centreville's leadoff batter, Jaeden Blades, led off the game with a solid single, went to second on a sacrifice bunt, then scored when the Bobcats attempted a pickoff play at third base and the ball sailed into left field. A deep fly ball scored a second run in the inning and the Bulldogs led 2-0 after one.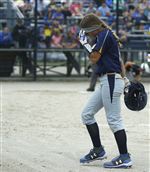 Whiteford's Baylee Baldwin makes the third out at first base, stranding loaded bases in the fourth inning during the 2018 MHSAA Quarterfinal against Centreville at Bailey Park Complex in Battle Creek, Mich.
THE BLADE/LORI KING
Enlarge | Buy This Image
Whiteford went quietly in the first but got its leadoff runner on in the second, only to see her picked off first base.
In the third, the Bobcats put together a rally. Samantha Overmann, Whiteford's only senior, singled and scored on an error. Lindsey Walker's single scored Baylee Baldwin. A Madison Durden double put two runners on base, but the Bobcats couldn't capitalize.
The Bobcats took a 3-2 lead in the fifth, when Walker led off with a sharpe single and scored on a wild throw to third, giving the Bobcat faithful at Bailey Park something to cheer about.
But the lead didn't last long. Centreville (34-6) scored four runs in the sixth, when it put together four singles and a double, sandwiched around a couple of fielder's choices that didn't go as the Bobcats hoped. One run scored on an error as the Bulldogs sent 10 batters to the plate.
Whiteford threatened in the sixth, putting two runners on with two outs, but didn't score.
Centreville put its leadoff runner on in the seventh and scored its fina run as a result. They will play in a state semifinal Friday at Michigan State University.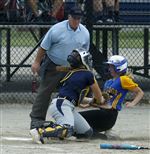 Whiteford catcher Milly Lott misses the tag on Centreville's Addy Ward during the 2018 MHSAA Quarterfinal at Bailey Park Complex in Battle Creek, Mich.
THE BLADE/LORI KING
Enlarge | Buy This Image
It was a game full of underclassmen. Centreville is built around eight sophomores, two juniors, and just two starting seniors. The Bobcats have seven junior starters.
One of those is Bobcat leadoff hitter Karsyn Berns-Moore, who drew three walks and singled. Another is Walker, who completed her third season as the ace of the Bobcat pitching staff. She struck out 225 batters this year and finished with a batting average above .500.
Hubbard's message afterward was to savor the moment because there are no guarantees when, or if, the team will get that deep into the state tournament again. Hubbard already has said next season, her 41st as coach of the Bobcats, will be her last.
"It's hard to get to the final four," Hubbard said. "I told our girls not to take anything for granted."
SUMMERFIELD OUT: The Summerfield High School baseball team fell just short of moving on to a state semifinal when it suffered a 4-3 loss to No. 2-ranked St. Joseph Lake Michigan Catholic in a Division 4 quarterfinal in Battle Creek.
Summerfield overcame a 2-1 deficit with a pair of runs in the fifth to take the lead, but Lake Michigan Catholic scored twice in the top of the seventh to earn the victory.
The regional appearance was the Bulldogs' first since 2011.
Guidelines: Please keep your comments smart and civil. Don't attack other readers personally, and keep your language decent. Comments that violate these standards, or our privacy statement or visitor's agreement, are subject to being removed and commenters are subject to being banned. To post comments, you must be a registered user on toledoblade.com. To find out more, please visit the FAQ.