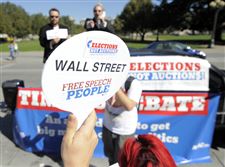 "The time has come to end the ability of big corporations and interest groups to dominate our political efforts," argues Blade letter writer Ellen Greene Bush.
ASSOCIATED PRESS Enlarge
In a Feb. 8 Blade article, "Local advocates call for preserving net neutrality," local advocates called for preserving internet neutrality rules and suggested that Ohio Attorney General Mike DeWine join 22 other attorneys general in lawsuits against the FCC. The goal is to support a free and open internet. I agree.
But we need to do more. Last month's repeal of the net neutrality which protects consumers was due to vigorous lobbying by a few internet service providers hoping to benefit from lax rules. Since the 2000 election cycle, telecommunication companies have donated more than $62 million to political action committees. Individual citizens' voices are lost when corporate money is "free speech."
The time has come to end the ability of big corporations and interest groups to dominate our political efforts. Urge your state representative to support Ohio HR 74. Get behind a grassroots movement, like American Promise. We must strengthen representational democracy, so that people, not money govern.
ELLEN GREENE BUSH
Port Clinton
Click here to submit a letter to the editor | View the Behind The Readers' Forum series
A core American value
Since he exercises his own rights so freely, even unto the edge of calumny, President Trump should recall that the First Amendment gives all of us the right to freedom of speech, even if it is to say nothing.
This is what some Democrats did by choosing not to applaud or cheer during Mr. Trump's State of the Union address. They may have been spoil-sports in failing to cheer his take on the state of our gloious nation, but they are not traitors.
They were, in fact, showing patriotic adherence to one of America's core values.
JOHN GILLESPIE
Parkwood Avenue
Untangling the details of a crime
With a professional background in unearthing obscure facts and making them comprehensible, I want to commend The Blade staff writers Jennifer Feehan and Allison Reamer for the job they have done thus far in covering the arrest of fake ID manufacturer Mark Alex Simon (Feb. 9, "2 local residents charged in Internet fake ID cases"). This will be a 2018 Toledo milestone, and I predict that it will generate journalistic recognition for the writers and for The Blade. To many, the subject may at first appear boring, quickly skipped over. But the staffers have done a great job of untangling technical details and turning the result into something meaningful, interesting, and educational.
While not always agreeing with The Blade's point of view on other things, I hope it keeps the bar high in continuing to accurately cover this saga, while helping me to understand the related and confusing Bitcoin phenomenon.
PHIL LIECHTY
Wauseon
Follow @BladeOpinion on Twitter.
Guidelines: Please keep your comments smart and civil. Don't attack other readers personally, and keep your language decent. Comments that violate these standards, or our privacy statement or visitor's agreement, are subject to being removed and commenters are subject to being banned. To post comments, you must be a registered user on toledoblade.com. To find out more, please visit the FAQ.