On the first day of the last tournament of her season, the weary mom-to-be looked brightly to the future.
Yep, all the way to ... Sunday.
"I want to give myself a chance to win this thing," Stacy Lewis said after firing a 3-under 68 on Thursday at the Marathon Classic.
Can you imagine?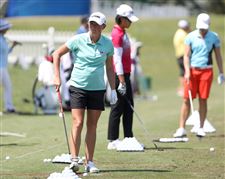 Stacy Lewis practices at the driving range ahead of the the Marathon Classic. Lewis is playing in her last tournament before taking maternity leave to have her first child.
Blade/Kurt Steiss Enlarge
If you thought this homecoming week filled with well-wishers, family cookouts, and even a baby shower would be little more than a feel-good valedictory lap, I'm guessing you don't know Lewis.
With three birdies on her last five holes to pull three shots off the lead, the iron-willed Lewis — five months pregnant with her first child — made it known she did not come to Highland Meadows to spoil a good walk.
"I'm just too competitive," she said with a smile, "regardless of how I feel or what my body is doing."
RELATED CONTENT: Suwannapura grabs Marathon Classic lead ■ Scores, schedule ■ Check out all of The Blade's 2018 Marathon Classic coverage
For the Toledo-born Lewis, a Sunday in contention here — and perhaps more — would be the storybook end to a groundbreaking season.
Yes, groundbreaking.
Lewis has reached many great heights in golf. A No. 1 world ranking. Two major championships. A dozen LPGA Tour wins. The list runs on.
But as an advocate and example for female athletes — and, soon, working moms — she is carding her biggest victory yet.
Just the other day, she revealed her main sponsor, KPMG, will pay the full value of her contract this year despite her forthcoming maternity leave . And though her other sponsors — most prominently, Marathon Petroleum — have not commented publicly, the expectation here is they will do the same.
That might not sound like a big deal.
Yet, in a sport where women in the earnings prime of their career are often forced to choose between their career and family — and in a nation where, according to the U.S. Department of Labor, only 12 percent of private-sector workers are afforded paid family leave through their employer — make no mistake: It is.
One small measure of goodwill, one giant leap for womankind.
Most sponsor deals require a player to play in a minimum number of tourneys, and prorate it accordingly if not. Nothing personal, just business, you know. Lewis expected no different when she informed her sponsors she would miss the second half of the tour schedule.
"A lot of people were shocked to learn that had never happened before," Lewis said. "Players that are moms and have kids, they thought it was the greatest thing ever, just because they had been in my position before and they know what that feels like. They thought it was unbelievable. At the same time, it was, 'Well, why don't they do that?'"
Great question.
Here's hoping they do.
Not necessarily for Lewis, who makes clear this is not about her. She knows she is more fortunate than most, her rainy day fund cushioned by $13 million in career winnings.
No, on a tour that counts just 10 moms, the 33-year-old Lewis is taking up the cause for those behind her.
"I hope this changes the way contracts are written, that [maternity leave] is already included in there, where it doesn't have to come from a CEO or whoever is making all the decisions," she said. "There are a lot of women on this tour that you basically have to say, 'I'm willing to give up all of my income this year to have a baby,' and that's a hard decision to make for a lot of people."
In the meantime, Lewis is enjoying her adieu here, where her husband, Gerrod Chadwell, is making a one-time cameo on her bag this week. (Are player-caddy still on speaking terms? "It's been a blast," reported Chadwell, the women's golf coach at the University of Houston.)
As one might imagine, it's not easy playing with an (unborn) baby on board. "You're standing on the tee and you feel a kick or something here and there," said Lewis, whose baby girl is due Nov. 3, "so that's kind of strange."
But like Nancy Lopez, who won twice while pregnant, she has carried on admirably. Even if her distance is a little down and she's had to sneak in naps lately, she has made five of the past six cuts. A player who is no stranger to the feel-good — remember her called shot at the Portland Classic last year — would love nothing more than to capture her first Marathon win.
If not, though, no sweat.
With her Lew Crew gallery set to expand by one, Lewis will be right back here next year. The sport's latest pioneer intends to return to the tour in the spring.
"I want to show people and kind of prove to myself that you can have a family and have a career," Lewis said. "I want to show my little girl that she can do whatever she wants."
Contact David Briggs at dbriggs@theblade.com, 419-724-6084, or on Twitter @DBriggsBlade.
Guidelines: Please keep your comments smart and civil. Don't attack other readers personally, and keep your language decent. Comments that violate these standards, or our privacy statement or visitor's agreement, are subject to being removed and commenters are subject to being banned. To post comments, you must be a registered user on toledoblade.com. To find out more, please visit the FAQ.