The scorecard of Thidapa Suwannapura resembled a children's coloring book.
It was an assortment of shapes and colors — circles, squares, and red and black all over.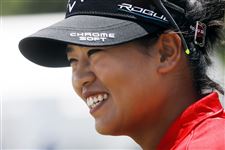 Thidapa Suwannapura laughs as she talks with her caddie before teeing off on the first hole during the first round of the LPGA Marathon Classic.
BLADE/KATIE RAUSCH Enlarge
The Thailand native shot a 6-under-par 65 on Thursday, carding 10 birdies, four bogeys, and just four pars. She has sole possession of the lead after the first round of the Marathon Classic, leading a seven-player pack by one stroke.
"I'm really happy about the way I played," Suwannapura said. "There was a lot of drop on the back nine, and I just kept playing. I didn't really look at the leaderboard and didn't expect anything. I have a chance, so let's see how it goes."
RELATED CONTENT: Mom-to-be Stacy Lewis the perfect ambassador for LPGA ■ Marathon Classic notebook ■ First round photo gallery ■ Scores, schedule ■ See all of The Blade's Marathon Classic coverage
Suwannapura, who's ranked 163rd in the world and never has won an LPGA Tour event, didn't have a single par on her final 11 holes, finishing birdie, bogey, birdie, birdie, bogey, birdie, birdie, bogey, birdie, birdie, birdie.
She only hit seven fairways and 12 greens in regulation, but it was negated by getting around the course with 23 putts.
"I know it's not an easy golf course, and there are a lot of pins that are tucked in the slope," Suwannapura said.
"The putts aren't easy, but I made most of them."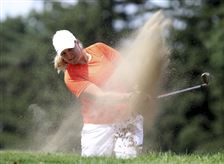 Caroline Hedwall chips out of the bunker near the 17th hole during the first round of the LPGA Marathon Classic.
BLADE/KURT STEISS Enlarge
One person a shot back is defending champion I.K. Kim, who teed off at 8:26 a.m. and held a share of the lead for almost the entire day. It almost was as if the final round of last year's Marathon Classic never ended.
Kim, who shot a blistering Sunday 63 to win in 2017, had five birdies during a six-hole stretch and is tied at 5-under with five-time major champion Yani Tseng, two-time major champion In Gee Chun, Caroline Hedwall, Jacqui Concolino, Mirim Lee, and rookie Katelyn Dambaugh.
Kim started on the back nine and birdied Nos. 13, 14, 15, 17, and 18. She bogeyed the par-4 No. 3 and finished with a birdie on the tricky par-4 No. 9.
"I had fun," Kim said. "This morning it was really peaceful and quiet. Not much wind out there. So I took that advantage on the [first] nine."
Past major champion Brooke Henderson and Christina Kim are part of the group at 4 under, and Stacy Lewis, Brittany Lincicome, and former Marathon Classic winner Chella Choi are 3 under. Forty-four people shot under par in the first round, almost one-third of the field.
"When things are going well, it's super easy," Henderson said of Highland Meadows.
The threat of rain is minimal the next two days, with the threat of morning thunderstorms Sunday. If it steers clear of Sylvania, the greens should harden up more and increase in speed.
"The course was perfect," Lee said. "The greens are a little firm and fast. But I like it."
Contact Kyle Rowland at: krowland@theblade.com, 419-724-6110, or on Twitter @KyleRowland.
Guidelines: Please keep your comments smart and civil. Don't attack other readers personally, and keep your language decent. Comments that violate these standards, or our privacy statement or visitor's agreement, are subject to being removed and commenters are subject to being banned. To post comments, you must be a registered user on toledoblade.com. To find out more, please visit the FAQ.