Jeffrey Dempsey has been named president of Mercy Health St. Vincent Medical Center and Children's Hospital.
He is currently president and chief operating officer at Mercy Health St. Charles Hospital in Oregon, a position he's held since September, 2014.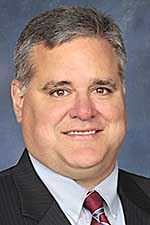 Dempsey
"This is a great opportunity," he said. "St. Vincent and Children's do fantastic work in our community. I am really excited about making the move."
Tom Arquilla has been interim president for St. Vincent and Children's Hospital since June, 2016, upon the departure of Kerry Tirman. Mr. Arquilla will remain chief strategy officer for Mercy Health–Toledo, a position he held while also serving as interim president for the hospitals, hospital officials announced Thursday.
Mr. Dempsey, 47, has been with Mercy Health since 1996. Under his tenure leading St. Charles, the hospital opened its Behavioral Health Institute and the Oregon Medical Center. In addition to those accomplishments, he said he was most proud of the patient-centered culture that exists at St. Charles.
"What we've done at St. Charles is create a team culture," he said. "It's like a family; people always go above and beyond to put our patients first."
Mr. Dempsey received a bachelor's degree in business administration from the University of Toledo and an MBA from Heidelberg University in Tiffin. He serves on the boards of the American Red Cross of Northwest Ohio and the Oregon Economic Development Foundation. He began his career with Mercy Health as a physician recruiter and joined St. Vincent in that capacity in 1997.
He lives in Sylvania with his wife, Sheila, and two children. Mr. Dempsey, who attended neighboring Central Catholic High School, called his return to St. Vincent a homecoming of sorts. Mercy Health officials said they are working on a transition plan for leadership at St. Charles.
"Jeff is a tremendous and proven leader within Mercy Health and I am pleased he will now be leading St. Vincent and Children's moving forward," said Dr. Imran Andrabi, president and CEO of Mercy Health-Toledo Region, in a written statement. "His collaborative leadership approach combined with his tenure of leadership at Mercy Health, is an asset for the organization as we look toward the future of healthcare delivery in downtown Toledo and throughout Northwest Ohio."
Mercy Health-Toledo announced Wednesday that Dr. Andrabi will depart effective May 26 to become president and chief executive officer of ThedaCare, a hospital system in northeast Wisconsin.
Contact Lauren Lindstrom at llindstrom@theblade.com, 419-724-6154, or on Twitter @lelindstrom.
Guidelines: Please keep your comments smart and civil. Don't attack other readers personally, and keep your language decent. Comments that violate these standards, or our privacy statement or visitor's agreement, are subject to being removed and commenters are subject to being banned. To post comments, you must be a registered user on toledoblade.com. To find out more, please visit the FAQ.