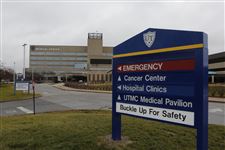 The University of Toledo Medical Center
The Blade/Andy Morrison
Enlarge | Buy This Image
A Columbia University oncologist will talk Thursday on the "History of Cancer Research: Why Patients Are Still Dying for a Cure" at the University of Toledo's Health Science Campus, the former Medical College of Ohio.
Dr. Azra Raza will speak at 5 p.m. in Health Education Building room 110 for the ninth annual S. Amjad Hussain Lecture in the History of Medicine and Surgery. He focuses on myelodysplastic syndrome and acute myeloid leukemia.
Guidelines: Please keep your comments smart and civil. Don't attack other readers personally, and keep your language decent. Comments that violate these standards, or our privacy statement or visitor's agreement, are subject to being removed and commenters are subject to being banned. To post comments, you must be a registered user on toledoblade.com. To find out more, please visit the FAQ.