A Lucas County child is the second in Ohio to die of flu-related complications during an intensifying flu season that has prompted a recent statewide spike in hospitalizations.
The 18-month-old boy died Monday at Mercy Health St. Vincent Medical Center, Toledo-Lucas County Health Commissioner Eric Zgodzinski said.
Family confirmed that Nathaniel Lee Downey died after he became suddenly ill Friday.
"He was being a normal kid an hour before," Paul Manning, a cousin of the toddler's mother, said. "Next thing we know, he started coughing real bad."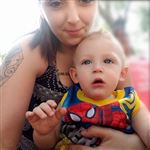 Family members of Nathaniel Lee Downey, 19 months, said he died Monday at Mercy St. Vincent's Medical Center from complications related to the flu.
Family via 13 ABC Enlarge
The boy's mother, Sheila Amerson of Toledo, was driving him to Mercy Health St. Charles Hospital when he stopped coughing and started turning blue. An ambulance transported him the rest of the way, and the child was later transported to St. Vincent's and placed on life support.
"He never came back," Mr. Manning said.
Health department spokesman Shannon Lands said the child tested positive for influenza A. His two older brothers also became ill, the eldest testing positive for the same strain of influenza; he is now recovering, Mr. Manning said.
The news came the same day the Ohio Department of Health announced the first child death attributed to influenza for the 2017-2018 season, a 4-year-old boy from Montgomery County.
"It's a hard subject to talk about but it is one this community needs to hear," Mr. Zgodzinski said. "It just goes back to the point of making sure our kids are vaccinated ... we're vaccinated, [and] making sure we understand when somebody is sick we need to contact a doctor."
Mr. Zgodzinski said he didn't know if the child had an underlying medical condition or if he had been vaccinated for influenza. The Centers for Disease Control and Prevention advise everyone age 6 months and older get a flu shot.
"The important thing to remember is the young and old have an issue with flu. They are much more susceptible to it. The complications can be much greater," Mr. Zgodzinski said.
The state health department also updated its overall flu-associated hospitalization count to 3,854 since flu season began in October, including 1,750 hospitalizations during the first week of January.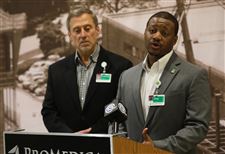 Dr. David Mierzwiak, vice president of Medical Affairs, left, and Greg Braylock, Jr., associate vice president of Operations, update the public about the busy status of the Emergency Room at the Toledo Hospital.
The Blade/Lori King
Enlarge | Buy This Image
Lucas County has seen 166 flu-related hospitalizations this season. The figure is 38 in Wood County, and 19 in Fulton County, according to local health departments.
The uptick in flu cases, coupled with injuries from falls and traffic crashes in icy conditions Wednesday morning, caused area emergency rooms to fill. Hospital officials urged patients with less severe needs to visit urgent care centers or primary care doctors.
RELATED: Influx of flu patients has ProMedica hospital ERs 'at or near capacity'
ProMedica said it had opened an incident command system 11 a.m. Wednesday to monitor emergency departments that were at or near capacity. At ProMedica Toledo Hospital, officials turned an area usually reserved for pre-admission testing into additional emergency space.
Toledo-area ProMedica hospitals were not diverting EMS patients to other hospitals as of Wednesday evening, but ProMedica officials encouraged patients with less severe illnesses and injuries to visit ProMedica urgent care centers in the Toledo area.
"Obviously if there is a critical illness or situation we want you to come to our ERs, but we'd also ask you to think about if you can go to your primary care physician...we have a number of ProMedica urgent cares that can serve illnesses," said Greg Braylock, Jr., associate vice president of operations at Toledo Hospital.
He added ProMedica will not turn away patients who show up at an emergency department.
Hospitals in the Mercy Health Toledo region are in a similar state, spokesman Sarah Bednarski said.
"At this time, we continue to triage patients per their symptoms and deliver the appropriate level of care," she said in a statement. "We encourage patients who are sick to seek medical attention as appropriate and to reach out to their primary care provider during onset of symptoms which include fever, cough, sore throat, body aches, headache, chills and fatigue."
She also encouraged those feeling sick to stay home and avoid contact with others for at least 24 hours after fever breaks and frequent hand washing.
St. Luke's Hospital in Maumee was diverting EMS calls Wednesday night, spokesman Jean Gillen said. The hospital had done so "for short periods" in recent days due to high volume, she said.
University of Toledo Medical Center spokesman Sarah Velliquette said the hospital was experiencing high patient volume due to flu and falls. Patients at the former Medical College of Ohio hospital are seeing longer waits, but staff is able to manage patients coming into the emergency department, she said.
Children account for about 5 percent of flu-related hospitalizations in Lucas County this year, Mr. Zgodzinski said.
Lucas County health officials said the child's death Monday was the first pediatric flu-related death here since January, 2005, when it became a reportable disease in Ohio. The last adult flu-related death in the county was in the 2014-15 season.
The Toledo-Lucas County Health Department has about 600 flu vaccines for patients age 3 and older and "a limited number" of vaccines for children 6 months to 3 years, the commissioner said.
There were seven flu-associated pediatric deaths in Ohio in the 2016-2017 season, including a 7-year-old Fulton County girl with an underlying heart condition.
Although Ava Coronado did test positive for influenza, the heart defect was the cause of death, according to Dr. Diane Scala-Barnett, Lucas County chief deputy coroner. The flu may have been a contributing factor, she said at the time.
Blade Staff Writer Alexandra Mester contributed to this report.
Contact Lauren Lindstrom at llindstrom@theblade.com, 419-724-6154, or on Twitter @lelindstrom.
Guidelines: Please keep your comments smart and civil. Don't attack other readers personally, and keep your language decent. Comments that violate these standards, or our privacy statement or visitor's agreement, are subject to being removed and commenters are subject to being banned. To post comments, you must be a registered user on toledoblade.com. To find out more, please visit the FAQ.