The beating of your heart is evidence that it's working to distribute blood throughout your body. But, what if your heart doesn't quite beat at a normal pace?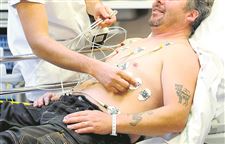 A doctor performs an electrocardiogram on a patient.
Getty Images Enlarge
Electrical impulses start every beat of your heart and keep it beating with a nice, regular rhythm. Sometimes the impulses become chaotic, irregular, or too rapid, indicating that the upper chambers of your heart are out-of-sync with its lower chambers.
This could be a sign that you have an arrhythmia, an irregular heartbeat. This condition causes poor blood flow to your body. With an arrhythmia, you may have an irregular, fast, or slow heartbeat.
The most common kind of arrhythmia is atrial fibrillation (AFib). According to the Centers for Disease Control and Prevention, an estimated 2.7- to 6.1 million people in the United States live with AFib.
A very dangerous condition, AFib causes the heart's atria, its upper two chambers, to beat wildly and out of coordination with its ventricles, the heart's lower two chambers. When this happens, blood is not efficiently pumped out of your atria and into your ventricles. As a result, blood can pool in your atria.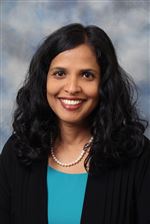 Tamirisa
CenterTop_1 Enlarge
Why is this a problem? Pooling blood in the atria could form a blood clot that escapes the heart and lodges into an artery of your brain, causing a stroke. AFib increases your chance of having a stroke by more than five times.
AFib episodes can be sporadic, happen often, or for long periods. Symptoms range from mild to severe and differ in each person. Common symptoms include:
• Pounding or fluttering in the chest
• Shortness of breath
• Chest pain
• Dizziness
• Exercise intolerance
An irregular heartbeat can be hard to spot. But, a cardiac electrophysiologist, a physician who specializes in heart rhythm disorders and the electric system of your heart, can help. Once diagnosed, they have a number of treatment options available to get your heart back into a normal rhythm, including:
• Medication management
• Rhythm control medications restore your heartbeat to a normal pattern.
• Rate control medications slow a racing heartbeat.
• Anticoagulants prevent stroke-causing blood clots from forming.
• Ablation uses heat or cold therapy to create scar tissue inside your heart. The scar tissue blocks abnormal electrical signals that can cause AFib.
• Cardiac monitoring devices include pacemakers, leadless pacemakers, ICDs (implantable cardioverter defibrillator), and S-ICDs (subcutaneous implantable cardioverter defibrillator).
• Cardioversion, which sends a low-energy shock to your heart when it's beating fast or irregular to reset it to its normal rhythm. It is a temporary solution.
These devices help pace and can even reset an abnormal heartbeat back into a normal rhythm.
Regardless of your heart rhythm problem, quality local care is available. The ProMedica Heart Rhythm Center opened last month at ProMedica Toledo Hospital. It's the region's first and only dedicated heart rhythm center and offers the most advanced treatment options for simple to complex arrhythmias, ensuring that patients no longer have to leave the Toledo area for care.
To learn more about AFib and treatments available at ProMedica Heart Rhythm Center, visit promedica.or/afib.
Kamala Tamirisa, MD, FACC, FHRS, is a cardiac electrophysiologist with ProMedica Physicians Cardiology.
Guidelines: Please keep your comments smart and civil. Don't attack other readers personally, and keep your language decent. Comments that violate these standards, or our privacy statement or visitor's agreement, are subject to being removed and commenters are subject to being banned. To post comments, you must be a registered user on toledoblade.com. To find out more, please visit the FAQ.