Toledo's last abortion clinic is under a time crunch to finalize a yet-to-be-signed patient-transfer agreement with ProMedica, but it isn't clear if even that is enough to preserve the clinic's ability to perform surgical abortions.
Jennifer Branch, attorney for Capital Care Network, said the clinic has until Friday to sign an agreement before the Ohio Department of Health could revoke its license following an Ohio Supreme Court's ruling last week. That ruling states the department was correct in revoking the clinic's license to perform surgical abortions because it previously lacked a transfer agreement with a local hospital.
ProMedica's board of trustees on Monday authorized such an agreement with Capital Care, though it had not been signed as of Tuesday evening. Ambulatory surgical centers that perform abortions in Ohio are required to hold a written transfer agreement with a local hospital in case of medical emergencies.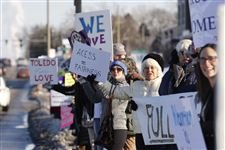 Abortion rights protesters gather on Monroe Street during an event near ProMedica Toledo Hospital to call on ProMedica and St. Luke's Hospital to sign a transfer agreement with Capital Care Network on Monday.
The Blade/Andy Morrison
Enlarge | Buy This Image
"Things are happening, but they all need to happen quickly," Ms. Branch said. "In the normal situation these things take weeks or months for lawyers to negotiate a contract, but I am hoping to get this [within] 48 hours."
She declined to comment about what terms are being negotiated, but said ProMedica "has been extremely cooperative."
Ohio Supreme Court rules state that the court clerk shall issue a mandate 10 days after a ruling unless a motion for reconsideration is filed in that time. Friday marks 10 days after the Feb. 6 ruling in this case.
Ms. Branch said she expects the health department to revoke the clinic's license if Friday arrives without an agreement. In that case, the clinic would need to reapply for a license whenever a transfer agreement is signed, Ms. Branch said.
ProMedica spokesman Tedra White said in an email Tuesday the health system was working to get an agreement in "an expeditious manner," but did not offer a timeline.
ProMedica's announcement Monday night came hours after protesters urged the health system to enter into such an agreement. Figures such as former Toledoan Gloria Steinem, state Rep. Teresa Fedor (D., Toledo), and Sen. Sherrod Brown (D., Ohio) issued statements with similar sentiments.
Ohio Department of Health spokesman Melanie Amato would not say Tuesday whether the department would still take action regarding Capital Care's license even if it receives a valid agreement, declining to answer that question or any others from The Blade.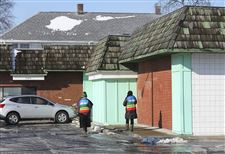 Volunteer clinic escorts Kristen Robideaux, left, and Laurel Hanson stand outside the Capital Care Network abortion clinic, 1160 West Sylvania Ave.
THE BLADE/DAVE ZAPOTOSKY
Enlarge | Buy This Image
The Ohio Supreme Court's ruling took a narrow approach in finding that the state health department was correct in revoking the facility's license in 2014 because its agreement with an Ann Arbor hospital 52 miles away did not qualify as a "local" hospital and the clinic operated under no agreement with any hospital from August, 2013, through January, 2014.
The court's ruling reinstated the state health department's order "revoking and refusing to renew the license of Capital Care Network of Toledo."
The court did not consider the constitutional arguments of whether a transfer agreement requirement places undue burden on obtaining an abortion, because evidence showed the clinic had violated the administrative rule in failing to have a valid transfer agreement. The ruling reversed two lower court decisions siding with the clinic.
Capital Care previously had an agreement with the University of Toledo Medical Center, but the former the Medical College of Ohio Hospital informed the clinic in 2013 it would not renew it. That year Ohio lawmakers prohibited publicly funded hospitals from entering transfer agreements with abortion clinics.
Also on Tuesday, Bishop Daniel Thomas said in a statement that Catholic community in the Diocese of Toledo was "heartbroken" at ProMedica's decision to authorize an agreement, saying it "endorses the taking of innocent human life."
"We believe the aim of all health care providers should be to promote the healing and protection of all human life, not to facilitate the destruction of the most vulnerable in our community," Bishop Thomas said.
Contact Lauren Lindstrom at llindstrom@theblade.com, 419-724-6154, or on Twitter @lelindstrom.
Guidelines: Please keep your comments smart and civil. Don't attack other readers personally, and keep your language decent. Comments that violate these standards, or our privacy statement or visitor's agreement, are subject to being removed and commenters are subject to being banned. To post comments, you must be a registered user on toledoblade.com. To find out more, please visit the FAQ.