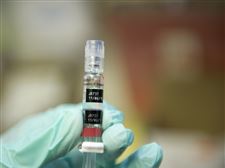 A nurse loads a syringe with a vaccine against hepatitis at a free immunization clinic for students before the start of the school year, in Lynwood, California in August, 2013.
Getty Images Enlarge
ADRIAN — A Lenawee County resident has tested positive for hepatitis A in connection with a larger outbreak of the disease in southeast Michigan, the county health department confirmed Wednesday.
The Lenawee County Health Department said a county resident tested positive but "is not considered to be at high risk of spreading the disease to others at this time."
Hepatitis A is a liver disease that can be spread by ingesting food or water contaminated by feces or through sexual contact. Symptoms, which can appear 1-2 weeks after contracting the hepatitis virus, include fatigue; fever; nausea and vomiting; jaundice; dark urine; pale stool, and joint pain.
People at higher risk for contracting the disease are:
People who are homeless or use transient housing.
Illicit drug users, including those who use injection and non-injection drugs.
Men who have sex with men, sex workers, and their clients.
People incarcerated or recently incarcerated.
People with underlying liver disease.
People traveling to countries where hepatitis A is common.
Health officials urge vaccination, which is available at the county health department, 1040 S. Winter St. Suite 2328, Adrian. As of Feb. 6, Michigan health officials have identified 736 cases and 24 deaths associated with the outbreak.
For more information about the outbreak, visit michigan.gov/hepatitisaoutbreak or lenawee.mi.us/833/Hepatitis-A-outbreak.
Contact Lauren Lindstrom at llindstrom@theblade.com, 419-724-6154, or on Twitter @lelindstrom.
Guidelines: Please keep your comments smart and civil. Don't attack other readers personally, and keep your language decent. Comments that violate these standards, or our privacy statement or visitor's agreement, are subject to being removed and commenters are subject to being banned. To post comments, you must be a registered user on toledoblade.com. To find out more, please visit the FAQ.