A salmonella outbreak linked to pre-cut melon, including one Ohio case in Hancock County and at least one each in Michigan's Lenawee and Monroe counties, has public health officials advising consumers to throw away potentially contaminated food.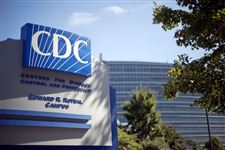 A sign marks the entrance to the federal Centers for Disease Control and Prevention in Atlanta.
ASSOCIATED PRESS Enlarge
Five states — Ohio, Illinois, Indiana, Michigan, and Missouri — have reported cases; Michigan has the most with 32. No deaths have been reported, but 31 people were hospitalized out of 60 reported cases, according to the Centers for Disease Control and Prevention.
Those sickened reported eating "pre-cut cantaloupe, watermelon, or a fruit salad mix with melon," primarily at Walmart or Kroger stores in the Midwest.
"This advice includes fruit salad mixes with melon, but does not include whole melon," according to a statement from CDC officials. "If you don't remember the store where you purchased pre-cut melon, don't eat it. Throw it away."
The two chains on Thursday pulled products linked to the outbreak from store shelves in affected states.
Salmonella symptoms include diarrhea, fever, and abdominal cramps between 12 and 72 hours after infection and typically last four to seven days, according to the CDC.
A 73-year-old Hancock County woman was hospitalized in May after falling ill, according to the Ohio Department of Health. At least one case each was reported in Monroe and Lenawee counties, according to the Michigan Department of Health and Human Services.
Public health officials advise to not eat and throw away the following:
● Pre-cut melon from Walmart stores in Illinois, Indiana, Michigan, Missouri, or Ohio.
● Pre-cut melon from Kroger, Jay C, or Pay-Less stores in Indiana or Michigan.
Guidelines: Please keep your comments smart and civil. Don't attack other readers personally, and keep your language decent. Comments that violate these standards, or our privacy statement or visitor's agreement, are subject to being removed and commenters are subject to being banned. To post comments, you must be a registered user on toledoblade.com. To find out more, please visit the FAQ.