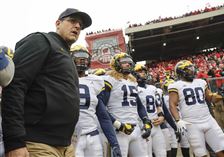 Michigan head coach Jim Harbaugh and his team could alleviate a disappointing season with a big win over Ohio State.
ASSOCIATED PRESS Enlarge
MADISON, Wis. — Don't kid yourself.
The trip to Arlington, Texas, for a season-opening date with Florida? Erase it from your memory.
The previous 11 games? The Wolverines' supposed 8-3 record? Fake news.
The truth is Michigan's season begins and ends Saturday. It's a one-game season. Beat Ohio State, and the previous dejection will disappear. A win against the Buckeyes will leave the Wolverines guffawing all the way to a sunny bowl game destination.
RELATED: Buckeyes' focus quickly turns to rival Wolverines | Michigan loses its quarterback, then game against Wisconsin
"It's a must. We've got to [win]," freshman defensive lineman Aubrey Solomon said. "No ifs, ands, or buts about it."
Everyone knows Jim Harbaugh hasn't beaten Ohio State since he returned to his alma mater. People also are quick to point out Harbaugh's combined record against the Buckeyes and Michigan State: 1-4. Dig deeper and another number reveals itself — Harbaugh is 1-6 against top-10 teams at Michigan. (Ohio State enters the game ranked eighth.)
It's not a referendum on Harbaugh, but it's darn close. If he starts out 0-3 against Ohio State and Michigan finishes in the middle of its own division for the third consecutive season, the murmurs of dissatisfaction that sprouted in October will be augmented.
"We'll definitely be ready to get as prepared as possible for this Ohio State game," senior defensive lineman Maurice Hurst said. "It's just one of those games where you put everything on the line. It's a one-game season for us."
Who knows who will be Michigan's quarterback? There are three legitimate options:
■ Wilton Speight could return from a two-month absence, but it seems unlikely considering he wasn't cleared for contact last week;
■ Brandon Peters might be 100 percent after suffering what appeared to be a serious head injury against Wisconsin. That, too, seems doubtful; and
■ Behind door No. 3 is John O'Korn. O'Korn starting is the most probable scenario.
Offense has not been Michigan's strong suit all season, and most especially in its three losses. The Wolverines scored a combined 33 points against Michigan State, Penn State, and Wisconsin in recording 803 total yards, an average of 267.7 per game.
"[Ohio State] is one of those games where we've got to capitalize on every opportunity we get," sophomore linebacker Devin Bush, Jr., said. "It's one of those games where you want to put everything on the line."
MORE: Don't mess with Devin Bush, Jr.
The excuse train is starting to lose steam. Eventually, results have to do the speaking. There can be no more bitter disappointment.
Whether it's eight or nine wins, several losses accompany the number in the win column. But the perception is drastically different if one of the victories comes against Ohio State. The entire psyche surrounding Michigan football will be uplifted, a cleansing of the soul.
"We're going to treat them like any other opponent," freshman receiver Donovan Peoples-Jones said. "We want to win. We've got to come out of there with a win."
The first-year player's comments started sloppy but finished smooth. The Buckeyes aren't any other opponent. Ask John Cooper if Michigan is just another game. Players become legends in this game, and coaches get fired for not winning it enough.
The sting of losing lingers longer than the jubilation of winning. Just listen to Hurst, a fifth-year senior who's experienced nothing but anguish against Ohio State.
"I haven't beaten them since I've been here," he said. "It's such a big opportunity to play them and try to grind out a win by any means necessary."
Contact Kyle Rowland at: krowland@theblade.com, 419-724-6110, or on Twitter @KyleRowland.
Guidelines: Please keep your comments smart and civil. Don't attack other readers personally, and keep your language decent. Comments that violate these standards, or our privacy statement or visitor's agreement, are subject to being removed and commenters are subject to being banned. To post comments, you must be a registered user on toledoblade.com. To find out more, please visit the FAQ.