The film industry puts on the glitz and glamour to celebrate its own at 8 p.m. Sunday with the 90th edition of the Oscars.
But the prestige of the awards show, which can be seen locally on WTVG-TV, Channel 13, has suffered recently as Hollywood has been rocked by a pair of tenacious social movements — #OscarSoWhite and #MeToo — that have challenged Tinseltown as a bastion of mostly white men and as a playground of sexual predation and abuse.
Northwest Ohio native Patrick Markey, a film industry veteran of nearly 40 years with producing credits that include 1992's A River Runs Through It and 1993's The Joy Luck Club, is a fervent supporter of those calling for change.
RELATED CONTENT: Patrick Markey's Oscars vote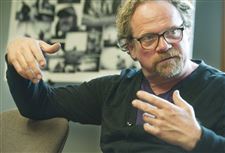 Patrick Markey, co-producer of 'A River Runs Through It' reflects on how his film crew collaborated with local fishing experts to make the film 20 years ago. He is a Fostoria native and the brother of Blade outdoors editor Matt Markey.
Mike Greener/Bozeman Daily Chronicle Enlarge
"I totally agree with it," said the Fostoria native and older brother of Blade Outdoors Editor Matt Markey. "I think this has been a white, male-dominated business for a long, long time, and it's finally starting to change for the better."
Markey referred to Marvel's latest blockbuster, Black Panther, as an example. The film features a black superhero and a largely black cast and was directed and cowritten by a black director, Ryan Coogler. In its first two weeks, it has made more than $400 million domestically and $700 million worldwide, both near record amounts.
Yet "for years studios would not produce a movie featuring a black superhero because they thought nobody would go see it," he said, "which of course is not the case as we watch the hugely successful rollout of Black Panther."
#MeToo is more complicated, perhaps, as it confronts something sinister, including accusations of rape.
The movement began with allegations against now-disgraced and fired studio executive Harvey Weinstein and spread, Markey said, because his industry had "been so neglectful of examining those issues or outright ignoring them for years."
"For decades, if you made a lot of money for a studio you could be a reptile and still get a job and be paid well," he said. "And I've always hated that, since I came to L.A. from Ohio 30 years ago. I thought those abusive people didn't deserve to have all of those accolades and that kind of remuneration. They were bullies with everyone, and there was no attempt to do anything about it until recently. We're never going back to that. We are now moving forward in a way that's very mindful of the inherent diversity inequities in our business."
Of course, these movements for systemic change have their own critics, particularly those of #MeToo, who counter that prominent careers have been damaged, perhaps irreparably, by allegations that often lack a proper investigation, much less a trial.
James Franco, for example, received rave reviews for his lead performance in December's The Disaster Artist and on Jan. 7 won the Golden Globe for Best Performance by an Actor in a Motion Picture, Musical, or Comedy. Days later, several allegations of sexual misconduct against Franco surfaced on social media and in a Los Angeles Times story. Franco disputed the accusations. Nonetheless, when the Oscar nominees were announced Jan. 23, the actor was noticeably absent from the Best Actor category.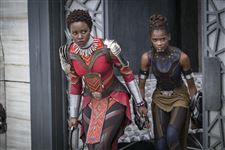 Lupita Nyong'o, left, and Letitia Wright appear in a scene from Marvel Studios' 'Black Panther.'
ASSOCIATED PRESS Enlarge
In these types of "she said-he said" accusations, where there are few if any facts to guide public opinion, Markey, one of the 8,000-plus members of the Academy of Motion Picture Arts and Sciences who vote for the Oscars, would rather err on the side of the victims.
"Think about it: If that was someone who had been treated terribly and her attacker is up for an award, should she not say anything so maybe he still gets his award?" he said. "I think if someone has been abused that way and they feel it's time to speak up, then they should just speak up and let the chips fall where they may. And if that costs somebody some votes, so be it.
"But I have a tendency to believe what those aggrieved women have to say because they've been treated badly for so many years. I don't think there's a lot of chicanery going on or that people are creating those stories. There is this groundswell of support for people coming out with those allegations, and they finally feel supported."
Markey has "been in the Academy a long time," he said. Long enough, in fact, that he's not sure of the exact year he joined, but it does predate when Shakespeare in Love toppled heavy favorite Saving Private Ryan for Best Picture in 1999 and the year before when the blockbuster Titanic trounced nearly everything, winning a record-tying 11 Oscars.
His membership into this prestigious and exclusive Hollywood club began, as it does with almost all members, with a sponsorship from at least two colleagues in the industry, followed by the endorsement of a committee representing one of the Academy's many branches (actors, directors, writers, producers, costume designers, et al), and the final approval of the Board of Governors.
"You either find a friend who is a member or someone invites you in," Markey said. "I was invited in. And then you have to get three colleagues to say that you're a qualified person. I got in the producers branch a number of years ago, I think it may have been around the time I produced A River Runs Through It."
And while he's voted for hundreds of Oscar categories, he's never been nominated for an Academy Award himself, though he has worked on three films that have been nominated in various categories: A River Runs Through It and The Joy Luck Club as a producer on each, and 1980's Ordinary People as a location manager, which was one of his first jobs in the industry.
Decades later, he's all but left the feature-film world to instead produce dramatic series for cable and premium cable networks and now streaming services. The career shift began with FX's The Bridge in 2013-14, followed by HBO's The Leftovers in 2015, and now Netflix's Ozark, which he executive produces with showrunner Chris Mundy and series star Jason Bateman. The acclaimed thriller and drama is the unfolding story of financial adviser "Marty" Byrde (Bateman), who uproots his family from Chicago to the Missouri Ozarks to escape a drug cartel. Ozark also stars three-time Oscar nominee Laura Linney as Byrde's wife, Wendy.
Ozark's second season is scheduled to premiere later this summer.
In fact, for this phone interview, Markey called from the set in Atlanta, where he's in the middle of working on the series, "which is kind of owning my life at the moment."
But he hasn't left Hollywood completely behind. In fact, while talking about his Oscar votes (see sidebar), Markey reminisced about those two times he attended the Academy Awards and then realized he wasn't missing much.
"I've never been good at handicapping the winners; however, it was nice to put on those fancy clothes for a night and go to the Oscars," he said. "But, for me, it's never been, 'Oh my God, I've got to get to the Academy Awards.'
"I love to produce movies. I like the process of it. I like the idea of putting a bunch of people together under sometimes extreme circumstances and with limited resources and then encouraging them to keep pushing that rock up the hill. Eventually you get it done, and hopefully it's good. That to me is really the soul of my work. It is not about getting out of a limousine and walking up the red carpet."
Contact Kirk Baird at kbaird@theblade.com or 419-724-6734.
Guidelines: Please keep your comments smart and civil. Don't attack other readers personally, and keep your language decent. Comments that violate these standards, or our privacy statement or visitor's agreement, are subject to being removed and commenters are subject to being banned. To post comments, you must be a registered user on toledoblade.com. To find out more, please visit the FAQ.