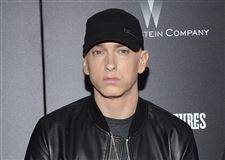 Eminem has released a verbal tirade on President Donald Trump in a video that aired as part of the BET Hip Hop Awards on Oct. 10.
ASSOCIATED PRESS Enlarge
DETROIT — Eminem has unleashed a lyrical tirade against President Donald Trump, saying he "came to stomp."
The rapper took aim at Trump in a 4½-minute freestyle rap video that aired as part of BET's Hip Hop Awards on Tuesday night. Eminem focused several times on Trump's ongoing campaign against NFL national anthem protests, rapping: "so we focus on that instead of talking Puerto Rico or gun reform for Nevada. All these horrible tragedies and he's bored and would rather cause a Twitter storm with the Packers." Eminem also derided Trump as "a kamikaze who will probably cause a nuclear holocaust."
Eminem closed the piece by saying people who don't support the president love the military and the country, but "hate Trump."
The White House didn't immediately respond to a request for comment.
Guidelines: Please keep your comments smart and civil. Don't attack other readers personally, and keep your language decent. Comments that violate these standards, or our privacy statement or visitor's agreement, are subject to being removed and commenters are subject to being banned. To post comments, you must be a registered user on toledoblade.com. To find out more, please visit the FAQ.