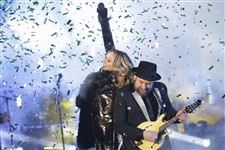 Jennifer Nettles, left, and Kristian Bush, of Sugarland, perform on stage at the New Year's Eve celebration in Times Square on Dec. 31, 2017, in New York.
ASSOCIATED PRESS Enlarge
Award winning country duo Sugarland will perform in Toledo Aug. 9 at the Huntington Center, 500 Jefferson Ave., as part of its 2018 "Still The Same Tour."
Tickets go on sale to the general public at 10 a.m. Friday and can be purchased at the venue's box office or at www.ticketmaster.com.
The duo, which includes Jennifer Nettles and Kristian Bush, will perform in 48 cities this spring.
Since 2002, Sugarland has sold 10 million albums and gathered more than 260 million on-demand streams.
Special guests include Frankie Ballard and Lindsay Ell.
Guidelines: Please keep your comments smart and civil. Don't attack other readers personally, and keep your language decent. Comments that violate these standards, or our privacy statement or visitor's agreement, are subject to being removed and commenters are subject to being banned. To post comments, you must be a registered user on toledoblade.com. To find out more, please visit the FAQ.