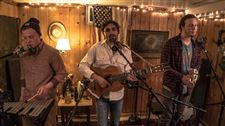 Waterville indie/folk band Oliver Hazard will perform at this summer's Bonnaroo Music and Arts Festival in Manchester, Tenn.
Mike Belazis Enlarge
The 2018 Bonnaroo Music and Arts Festival will get a taste of northwest Ohio music this summer, when Waterville indie/folk band Oliver Hazard joins the lineup of the Tennessee-based festival in June.
"I almost feel like it won't seem real until we're actually playing there," said guitarist and vocalist Mike Belazis. "It is a dream come true even though it's a dream."
Oliver Hazard will perform during the first day of the festival on June 7.
This year's lineup includes Eminem, The Killers, Muse, Future, and more than 90 other artists who will perform throughout the four-day event in Manchester, Tenn. The festival attracts more than 80,000 people each year. The last day of the festival is June 10.
Last year's lineup included acts such as the Red Hot Chili Peppers, Lorde, U2, Portugal. The Man, and Chance The Rapper.
Tickets go on sale to the general public at 10 a.m. Friday. They can be purchased at www.bonnaroo.com.
Guidelines: Please keep your comments smart and civil. Don't attack other readers personally, and keep your language decent. Comments that violate these standards, or our privacy statement or visitor's agreement, are subject to being removed and commenters are subject to being banned. To post comments, you must be a registered user on toledoblade.com. To find out more, please visit the FAQ.