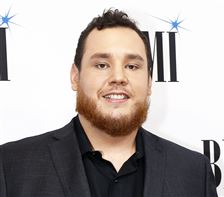 Luke Combs
Wade Payne/Invision/AP Enlarge
Luke Combs brings his "Don't Tempt Me with a Good Time" tour to the SeaGate Convention Centre, 401 Jefferson Ave., on Thursday. Tickets start at $25.
Combs is a breakout star on the country scene, releasing his debut album, This One's For You, in 2017. It topped charts as the biggest-selling debut country album to be released last year, with a single, "Hurricane," receiving wide play on country radio stations.
Drew Parker and Ashley McBryde join Combs as special guests when he stops in Toledo. The concert begins at 7:30 p.m. For tickets and more information, go to toledo-seagate.com.
■ Curators Adam Levine and Mike Deetsch lead a talk on the Toledo Museum of Art's new exhibit, The Mummies: From Egypt to Toledo, on Saturday. The exhibit, which includes the remains of two mummified humans that the museum founders brought to Toledo in 1906, opens the same day.
Levine is the associate director and associate curator of ancient art at the museum. Deetsch is its director of education and engagement. Their talk begins in the Little Theater at 2 p.m. and wraps up in the exhibition at 4 p.m.
Participation is free. The Toledo Museum of Art is at 2445 Monroe St. Information: toledomuseum.org.
■ Black History Month kicks off on Saturday with Beautifully Wrapped, an afternoon art exhibition featuring 26 photos that explore the practice of head-wrapping around the globe — and, in turn, the intersection of faith, fashion, and culture through art. Head-wrapping demonstrations, drum and dance performances, vendors, refreshments, and more accompany the exhibition between noon and 3 p.m.
General admission tickets, $15, are available online: bit.ly/​2DOzvGz. Proceeds benefit Women of Toledo Organization.
Beautifully Wrapped takes place at the Secor Ballroom, 425 Jefferson Ave.
■ The Town Center at Levis Commons breaks out its Cool Characters on Friday. Snap a selfie with life-size figures constructed from giant synthetic ice cubes, arranged in eight scenes throughout the streets of the shopping complex. Adult-sized characters stand more than 6 feet tall, and are paired with child-size characters, pets, and other icy props.
The exhibit remains on display through Feb. 25 at Levis Commons, 3201 Levis Commons Blvd., Perrysburg. Visit shopleviscommons.com/​events.
Contact Nicki Gorny at ngorny@theblade.com or 419-724-6133.
Guidelines: Please keep your comments smart and civil. Don't attack other readers personally, and keep your language decent. Comments that violate these standards, or our privacy statement or visitor's agreement, are subject to being removed and commenters are subject to being banned. To post comments, you must be a registered user on toledoblade.com. To find out more, please visit the FAQ.