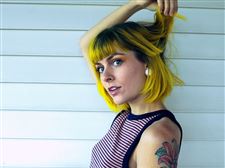 Kelc Galluzzo of Jetty Bones
In September, Jetty Bones was on a small stage in the dimly lit Frankies Inner-City in Toledo belting out songs and energizing the crowd for that night's headlining pop punk act Real Friends.
Fronted by 25-year-old Kelc Galluzzo, Jetty Bones returns to the Glass City as one of four opening acts for headliner Chicago pop punk band Knuckle Puck on Sunday at Frankies Inner-City, 308 Main St.
Ohio native Galluzzo fronts her project known as Jetty Bones along with several of her close friends and has released two EPs (Crucial States, 2016; Old Women, 2017) filled with pop rock songs infused with lyrical cleverness detailing her coping with reality.
If You Go:

What: Knuckle Puck, Jetty Bones, Hot Mulligan, Boston Manor, and Free Throw

When: 5:30 p.m. Sunday

Where: Frankies Inner-City, 308 Main St.

Admission: $19-$23
Crucial States was written during a time in Galluzzo's life when she felt isolated from the world around her.
"It was about me waking up one day and realizing that I had alienated everybody that I had been close to and realizing I had spent so much time helping people, and I forgot to be vulnerable, and I needed people," she said.
She dedicated a year to writing the continuation of that feeling and reflection from it on Old Women, a five-song release about learning to connect with people socially, something she said she strayed away from earlier in her life.
"It was an outward expression of my brain as I was coping with that and analyzing why I had been so isolated from people, the relationships where they had isolated me from people and the toll it took on me and healing and moving forward," she said.
Part of that release includes her song "Innocent Party," where she sings "I fell for a trick and fell into the trap of a thief's bed/Who stole what I've known/Corrupted my bones and left me there for dead/He borrowed my body until my skin started rotting through my head/I woke up alone and these jutting bones were all that I had left/I was all that I had left/And I felt totally inept."
Galluzzo admits she was previously in a sexually abusive relationship and was never open about it.
"I was isolated from my church, my friends, my family, and I had no idea until it was over," she said. "After the fact, I had to deal with a lot of repressed memories coming back. That was the biggest process for me; accepting what happened, realizing it wasn't my fault, and trying to take off this coat of shame I had been wearing."
She thought she was protecting herself by not telling anyone about her situation, she said. Then, finally, she decided it was a topic that needed to be discussed, regardless of whether it made others uncomfortable. So she channeled those emotions into Jetty Bones.
"For a really long time I believed I was protecting myself from people's sympathy, from their worries, their concerns by not ever telling anybody and by keeping it to myself," she said. "I realized the only thing I was doing was protecting my abuser and simultaneously letting that hold or power over me stay. Talking about it does give you your power back."
Success continues for Galluzzo. Jetty Bones opened for Pennsylvania pop punk band the Wonder Years last fall on a U.S. tour, as well as a short tour with math rock trio Tiny Moving Parts.
Now, she'll be on the road with pop punk band Knuckle Puck starting Thursday until the tour wraps up April 8 in Indianapolis.
"When I first connected to music I really needed it because I felt so alone," she said. "Having the ability to use my personal coping mechanism to [transfer] hope to other people ... it gives them that reality they're not [struggling] by themselves."
Also included in the lineup is Free Throw, Hot Mulligan, and Boston Manor.
Contact Geoff Burns at gburns@theblade.com or 419-724-6054.
Guidelines: Please keep your comments smart and civil. Don't attack other readers personally, and keep your language decent. Comments that violate these standards, or our privacy statement or visitor's agreement, are subject to being removed and commenters are subject to being banned. To post comments, you must be a registered user on toledoblade.com. To find out more, please visit the FAQ.