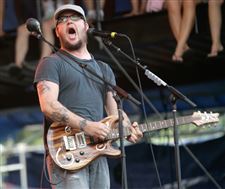 Isaac Brock, of Modest Mouse performs with his band at Lollapalooza at Grant Park in Chicago on Sunday, Aug. 5, 2007. The three-day festival, headlined by Pearl Jam, includes 130 bands.
ASSOCIATED PRESS Enlarge
American indie rock band Modest Mouse will perform Sept. 26 at the Stranahan Theater, 4645 Heatherdowns Blvd.
Tickets cost $39.50-$59.50 and go on sale to the general public at 10 a.m. May 18. They can be purchased at the venue's box office or at www.etix.com.
The band has released six full length album since its inception in 1992. Its most recent album Strangers to Ourselves was released in 2015, eight years after its previous 2007 album We Were Dead Before The Ship Even Sank. The band is known for its hit songs such as "Third Planet," "Ocean Breathes Salty," "Float On," and "Dashboard."
The show starts at 7:30 p.m.
Guidelines: Please keep your comments smart and civil. Don't attack other readers personally, and keep your language decent. Comments that violate these standards, or our privacy statement or visitor's agreement, are subject to being removed and commenters are subject to being banned. To post comments, you must be a registered user on toledoblade.com. To find out more, please visit the FAQ.