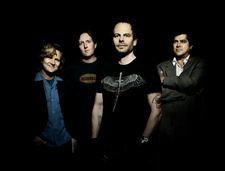 The Gin Blossoms perform Friday at Promenade Park in Toledo.
It's taken almost eight years for Arizona rock band Gin Blossoms to release its sixth full-length album, Mixed Reality, in June since 2010's No Chocolate Cake.
Yet ask original guitarist Jesse Valenzuela about that delay, and he'll say it's nothing the band hasn't done before throughout its 26-year career.
"I don't think it was a matter of waiting," he said during a recent phone call with The Blade. "At the height of our popularity we only made a couple of records. We're a slow moving group of turtles."
Gin Blossoms perform in downtown Toledo Friday at Promenade Park as part of ProMedica's Summer Concert Series.
If You Go
What: Gin Blossoms, Tonic, Vertical Horizon
Where: Promenade Park, 400 Water St., Toledo
When: 6:15 p.m. Friday
Admission: $10 at ticketmaster.com, Huntington Center box office, or at promenadeconcerts.com
With a pop rock sound different from the hair bands and grunge rockers on MTV during the late '80s and throughout the '90s, Gin Blossoms found mainstream success with its 1992 breakthrough New Miserable Experience, a 12-song release featuring hits such as "Hey Jealousy," "Until I Fall Away," and "Found Out About You." "Hey Jealousy" peaked at No. 31 on Billboard in 1993 and spent 18 weeks on the chart. The song now has more than 28 million streams on Spotify
Scotty Johnson stepped in to replace original guitarist, songwriter and co-founder Doug Hopkins in 1992. Hopkins suffered from mental illness and alcoholism. He committed suicide in 1993.
Ten years would pass between the release of Congratulations I'm Sorry and the group's fourth album Major Lodge Victory, largely because the band broke up from 1997-2002.
Fast forward to June, 2018, and the Gin Blossoms have returned with Mixed Reality, working with veteran producer Don Dixon (R.E.M., Hootie and the Blowfish) for the first time.
The guitarist said he's known Dixon forever and has worked with him on projects in the past.
"He's a really talented man," Valenzuela, 56, said. "Don's a smart guy and he wants to capture a performance and a little piece of time and it moves from there. He's not too precious about things."
The 15-song album finds Gin Blossoms in its classic element: alternative rock intertwined with clean vocals. It's also a release the members didn't have to spend time letting a record label like A&R Records decide what to include on the album, Valenzuela said.
"It's a very Democratic record," he said. "There was no picking and choosing. In that regard it's really beautiful. We're not writing for radio anymore. ... It was pretty easy [there was] no pressure. Hopefully at this stage you wouldn't want to feel pressure. I'm glad to make new music."
The Gin Blossoms' Friday concert at Promenade Park is the next ticketed event at the outdoor venue as part of ProMedica's Summer Concert Series. Gladys Knight kicked off the series June 2 and Easton Corbin will close the series Sept. 21.
Randy Oostra, ProMedica president and CEO, said promoters are expecting a large turnout for Friday's show.
"The concerts have brought together the community exactly how we had envisioned," he said in an email. "As a result, more than 30,000 people have been able to experience our revitalized downtown while listening to live music along our beautiful riverfront."
Songs like "Hey Jealousy" and "Found Out About You" still make their way into the Gin Blossoms' live set, despite their early '90s release, Valenzuela said.
"I'm very respectful to those songs, they kind of created our career," he said with a laugh. "I like to play the songs that people enjoy. There's an immediate reaction when they hear those songs. It raises a level of excitement."
Regardless of the band's success, Valenzuela said it wouldn't have been possible without a constant work ethic.
"You have to have work," he said. "[You have] four to five grown men trying to support their families and pay their bills and you need jobs, a place to go play a show. If people keep paying to see your show and come in and have a good time, then you're going to have musicians who are going to stick around each other and realize maybe we could do something special that even after all these years people want to see.
"We should be very thankful and very respectful [of] that."
Gates open at 5 p.m. and the music starts at 6:15 p.m. Special guests include Tonic and Vertical Horizon.
Contact Geoff Burns at gburns@theblade.com or 419-724-6054.
Guidelines: Please keep your comments smart and civil. Don't attack other readers personally, and keep your language decent. Comments that violate these standards, or our privacy statement or visitor's agreement, are subject to being removed and commenters are subject to being banned. To post comments, you must be a registered user on toledoblade.com. To find out more, please visit the FAQ.