She Loves Me, a Broadway musical with a love story that inspired the 1998 film starring Tom Hanks and Meg Ryan, You've Got Mail, and Jimmy Stewart's 1940 movie The Shop Around the Corner, opens Friday at the Croswell Opera House in Adrian for eight performances.
An adaptation of the 1937 play Parfumerie by Hungarian playwright Miklós László, the musical comedy follows Amalia and Georg, who work together in a 1930s Budapest perfume shop and don't like each other at all. But both are looking for romance and writing letters to other members of a lonely hearts club. What they don't know is that they are writing to each other and falling in love.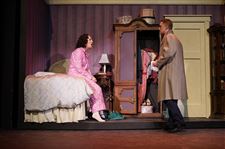 Leah Fox as Amalia Balash and Shonn Wiley as Georg Nowack are pictured in a scene from "She Loves Me" at the Croswell Opera House.
LAD STRAYER Enlarge
The Croswell production of She Loves Me stars Shonn Wiley as Georg. Wiley, who was born in Adrian, says he practically grew up at the Croswell; his first of many performances there was in the musical George M! in 1986, when he was 9 years old.
He made his Broadway debut In 2001 in a revival of 42nd Street, and appeared in other shows on and off Broadway. In 2009, he starred as Bob Gaudio in the Chicago company of the Tony Award-winning musical Jersey Boys, and followed that in 2010 with becoming a founding member of the band Under the Streetlamp, which tours the country performing songs from the Great American Radio Songbook and slick dance moves. The group will release a new studio album, Listen To The Music, this fall.
"It's been a very fruitful year for us; we're excited about the future," he said in a recent phone interview.
Starring as Amalia is Leah Fox, who played the title character in a well-received production of Mary Poppins at the Croswell in 2015.
"They play off of each other," director Julianne Dolan said in press materials. "Amalia is mouthy when she is with Georg, and he follows the rules. It's fun to see that fire happen between them."
Also portraying employees of the store are Sarah Nowak, Ashley Fox, Karl Kasischke, and Alan Gibson. The shop's owner, Mr. Maraczek, is played by John Bacarella.
"The story is just super sweet," Wiley said, and it's a love story rooted in real issues and real life; it's timeless, it's about finding love, it's about celebrating life.
"Georg is a young bachelor who has done the dance halls and been to the cabarets, and is looking for a relationship with a little more substance. He decides to start corresponding with someone who has more depth, someone he can see himself with."
There's a moment when Georg is not really sure he wants to meet the woman he's corresponding with; what if she's as beautiful and brilliant as he thinks she is, and what's she going to think about him, he's just an ordinary clerk in an ordinary shop.
"But when he realizes who it is, he starts to foster the relationship more, and some things happen. He's a complex individual who has lived a while and is ready to have a relationship."
The music of She Loves Me is one of the things that drew Wiley to the show.
"I love the music. Lyrically it's challenging, and it's very clever. Musically it's lush and it's got some great melodies and beautiful harmonies. It's not like [the characters] just break out in song; all of the songs are character-driven and plot-driven."
Joseph Danie is the Croswell's music director. Libby Garno (choreography) Doug Miller (scenic designer), Pam Krage (costume designer), Chris Goosman (sound designer), Tiff Crutchfield (lighting designer), and Phoenix Jacob (stage manager) round out the production.
"She Loves Me is a beautiful musical that isn't done very often," Wiley said, "so any time that it is done, people should definitely see it."
Musical theater, including musicals like this one, draw people partly because it lifts their spirits, Wiley said. There are some serious moments in She Loves Me, but there are also lighthearted ones.
"You walk into the theater and you have to silence your phone and you're not looking at it for anywhere from 90 minutes to two and a half hours, and you get to lose yourself in the music and they story; there's something about live people onstage making the art in the moment, that I think even transcends film," Wiley said. "Everybody's participating, even the audience is participating, and the actors, and the people who make the lighting change, and the scenery change, and people backstage with the costumes, and you have artists working together.
"It's a beautiful thing to experience, and I think that shared experience keeps people coming to the theater — you can't find it anywhere else."
Performances of She Loves Me are at 8 p.m. Friday and Saturday and at 2:30 Sunday at the Croswell Opera House, 129 E. Maumee St., Adrian. Additional shows are at 8 p.m. July 19-20, at 2:30 and 8 p.m. July 21, and at 2 :30 p.m. July 22. Tickets range from $15 to $35; tickets and information are from croswell.org and 517-264-7469
Contact Sue Brickey at: suebrickey@theblade.com.
Guidelines: Please keep your comments smart and civil. Don't attack other readers personally, and keep your language decent. Comments that violate these standards, or our privacy statement or visitor's agreement, are subject to being removed and commenters are subject to being banned. To post comments, you must be a registered user on toledoblade.com. To find out more, please visit the FAQ.