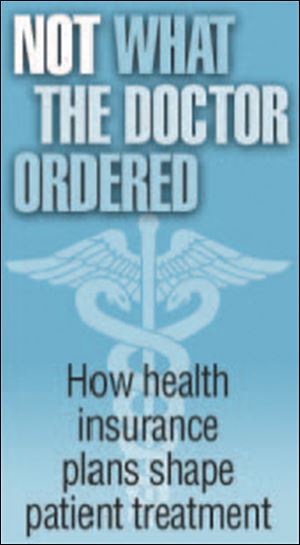 Health insurance is the talk of the campaign trail, with every candidate and interest group touting plans to insure America. Millions have insurance, millions don't, and many can't afford it. Some who have insurance aren't getting much for it.
The Blade's investigative team set out to examine whether patients are getting the care their doctors ordered. We found some people with health insurance were harmed because insurers interfered. Whether prescriptions, medical tests, or surgery, dozens of doctors told The Blade that insurers overruled their decisions and patients suffered.
We cast a wide net in conducting this investigation, interviewing about 100 doctors in a dozen states and surveying hundreds more about their experiences with insurers. We spoke to insurance executives, health-care lawyers, academics, and lawmakers.
Most important, we spoke to patients.
PART ONE
Patients suffer as care, coverage limits collide: (8/24/08) When a patient steps into a doctor's office, he trusts that the only thing on his physician's mind is how to make him better. But physicians across the United States fear that increasingly stringent insurance rules and the frequent second-guessing of doctors orders are eroding the doctor-patient relationship.A Blade investigation, including interviews with about 100 physicians and a national survey of doctors with more than 900 responses, revealed that a growing number of doctors believe there's an epidemic of insurers dictating medical-treatment decisions.
Lawsuit fears drive doctors to play it safe:(8/24/08) Many physicians say that in trying to treat their patients, they practice 'defensive' medicine over-ordering tests, over-referring patients to specialists, or over-prescribing medication only to fend off lawsuits in case something goes wrong. Doctors say they are in a difficult position because they want to protect themselves against legal vulnerabilities, and at the same time not over-prescribe expensive medical testing such as MRIs and CAT scans, which insurers monitor for unnecessary usage.
Doctors decry insurance ratings based on economics:(8/24/08) In the rush to contain health-care costs, insurers are increasingly ranking doctors into groups based on their clinical treatment decisions. Known as 'tiering,' the groupings are of dire concern to many doctors who contend insurers' rankings deceptively cause patients to question their physicians' performance and create wrong incentives for physicians to cut down on prescribing expensive drugs and tests. The reason for tiering is for insurers to save money with patients of the worst-rated physicians forced to either pay higher co-pays or switch doctors. Tiering is most commonly used in major cities on the East and West coasts, although it has been tested in Ohio.
PART TWO
Delays, denials thwart patients hoping for help: (8/25/08) A Blade investigation shows that doctors nationwide believe there is an emerging crisis in providing health care to their patients because insurers routinely challenge their orders. The investigation included interviews with about 100 physicians and an online survey of members of the Ohio State Medical Association and American Medical Association. The Blade prepared the survey questions, which the associations sent to their members. Of the 920 respondents, more than 99 percent said insurers had interfered with their clinical decisions.
Male teen endures long wait to address chest issue: (8/25/08) In their quest to convince insurers to cover the procedures prescribed by their doctors, patients with unusual conditions are finding more and more obstacles. Panayiophs Tsiknis, an 18-year-old known as "Peter," of Bridgeport, Conn., was asked to submit pictures of his enlarged breasts and participate in a psychological examination before his insurer, Anthem Blue Cross and Blue Shield of Connecticut, would even consider paying for an operation to have his breasts surgically removed.
Physicians face pressures from drug managers: (8/25/08) Dr. Jack Brunner and his staff spend countless hours each week answering the calls and faxes of Medco Health Solutions, Express Scripts, and CVS Caremark, three of the nation s largest pharmacy benefit managers. Pharmacy benefit managers, which have emerged as a force in the health-care industry during the past decade, coordinate prescription benefits on behalf of insurance plans and employers. They typically will help determine what types medication will be covered, monitor use of medication, handle prior-authorization requests from doctors, and assist with disease management. But physicians such as Dr. Brunner say pharmacy benefit managers are adding burdens for doctors offices and hurting patient care.
PART THREE
Health insurers describe business as balancing act:(8/26/08) At an estimated $2.4 trillion this year, costs of the U.S. health-care industry have doubled in the last decade, increasing scrutiny and demands for efficiency in both the private and public sectors. Total spending on health care could increase from 16 percent of the gross domestic product last year to a quarter in 2025 and nearly a half by 2082, predicts the Congressional Budget Office. What doctors want for their patients and what is paid for by insurers are often at odds because of questions about medical necessity as well as cost, Anthem and other insurers say. Insurers have to keep the interests of not only doctors and patients in mind, but of those footing the bill for insurance coverage, they say. "It s a balancing act," Dr. Barry Malinowski said. "Sometimes, we are in the middle because we have a number of parties we have to serve."
Some physicians find freedom by shunning insurers: (8/26/08) Dr. Robin Oshman sees patients in an office in her home on Long Lots Road in Westport. Dr. Oshman practices in Fairfield County, where many New York executives make their homes, helping it consistently rank among the wealthiest counties in the nation. Being a doctor in a locality of such affluence has made it easier for Dr. Oshman to be able to manage her practice without accepting insurance plans, removing the constraints and hassles that come with having insurers preapprove tests, procedures, and medication.
PART FOUR
Patients' Bill of Rights may help solve care concerns:(8/27/08) Ohio Gov. Ted Strickland is still haunted by the memory of Patsy Haines, who died nearly seven years ago after a long battle with leukemia. The woman's doctors felt she needed a bone-marrow transplant, and her brother was a match, but her insurer wouldn't pay because it considered the operation experimental. Mr. Strickland, then a congressman serving southeastern Ohio, joined the woman's fight and sought help in Columbus and Washington - but he couldn't get the transplant approved. Ms. Haines, 31, of Hillsboro, Ohio, waited nearly two years - and only after qualifying for the procedure under Medicare - before she received the transplant. But a few days later, she died.
Timing, politics stymied Patients' Bill of Rights:(8/27/08) Seven years ago, President Bush invited Rep. Charles Norwood to the White House to discuss the Georgia congressman's long-lived efforts to pass a Patients' Bill of Rights. For much of the late 1990s and early 2000s, lawmakers on Capitol Hill haggled over proposals to protect patients from intrusions by insurers. Mr. Norwood, a Republican, along with Rep. John Dingell, a Michigan Democrat, championed a sweeping proposal which guaranteed patients they would have recourse when a health plan denied coverage. But on that August day in 2001, Mr. Norwood left the Oval Office with a handshake and a compromise. And the Patients' Bill of Rights, at least as Mr. Dingell envisioned it, began its slow fade into the vast banks of failed health-care legislation.