MONROE — Investigators believe a man knew his girlfriend's dead body was inside their Monroe apartment for about a month and he failed to call police, Monroe Police Lt. John Wall said.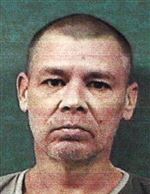 David Hall
David M. Hall, 49, of East Noble Avenue is charged with concealing the death of an individual, a felony offense. Foul play is not suspected in the case. The woman was identified as Kandance Simmons.
Mr. Hall is accused of living in the apartment for up to a month while his girlfriend's body was in a bedroom, Lieutenant Wall said. The lieutenant said Mr. Hall offered no explanation for not calling police.
Bond was set at $50,000 during Mr. Hall's arraignment Wednesday in Monroe County First District Court, where he is scheduled to appear again Jan. 18. He remained in the Monroe County jail Wednesday.
Monroe police were called to the apartment Dec. 31 after the landlord requested a well-being check, Lieutenant Wall said. Officers found the woman upon their arrival, and investigators believe she had been dead about a month, the lieutenant said.
Mr. Hall was later located and arrested on a warrant for a domestic dispute involving the woman. But relatives have told police the woman had medical problems, the lieutenant said. Autopsy results are pending at the Wayne County Coroner's Office.
Contact Allison Reamer at areamer@theblade.com, 419-724-6506 or on Twitter @AllisonRBlade.
Guidelines: Please keep your comments smart and civil. Don't attack other readers personally, and keep your language decent. Comments that violate these standards, or our privacy statement or visitor's agreement, are subject to being removed and commenters are subject to being banned. To post comments, you must be a registered user on toledoblade.com. To find out more, please visit the FAQ.