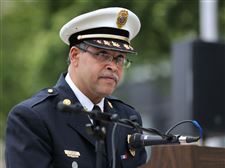 Toledo Fire Chief Luis Santiago
The Blade
Enlarge | Buy This Image
A group of Toledo firefighters traveled to Pennsylvania this week to attend the funeral services of a Philadelphia firefighter who recently died in the line of duty.
Toledo Fire Department Chief Luis Santiago, along with firefighters, Glenn Hill, Jake Hoffman, Joe Hoffman, Joe Cira, Barrett Dorner, and Tom Henry, attended Friday's services for Philadelphia firefighter Lt. Matt LeToureau.
Lieutenant LeToureau died Jan. 6 in the line of duty while battling a blaze in Philadelphia.
Guidelines: Please keep your comments smart and civil. Don't attack other readers personally, and keep your language decent. Comments that violate these standards, or our privacy statement or visitor's agreement, are subject to being removed and commenters are subject to being banned. To post comments, you must be a registered user on toledoblade.com. To find out more, please visit the FAQ.