A group of determined residents this week announced plans to try to amend the Toledo City Charter in an effort to require any new Lucas County jail remain downtown.
But whether such an electoral measure, should it reach the November ballot and pass, legally could restrict the county's $180-million proposal to build in North Toledo remains in question. County commissioners recently purchased several parcels along the 5700 block of North Detroit Avenue. The area is zoned for industrial properties.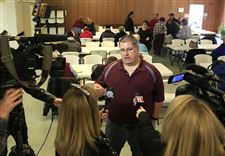 Rob Disbrow II answers questions during a news conference held by Keep the Jail Downtown Toledo Community Group at Riverpoint United Methodist Church earlier this month.
The Blade/Kurt Steiss
Enlarge | Buy This Image
Keep the Jail Downtown Toledo Community Group leaders are trying to collect signatures from 6,000 registered city voters by the first week of July. They aim to place on the November ballot a proposed "law to protect the integrity of neighborhoods in Toledo," requiring jails in a designated downtown area.
Any government violating this rule would be subject to a fine and a suit brought in Lucas County Common Pleas Court, according to the petition.
It is not clear if the city can create a cause of action in common pleas court, said John Borell, an assistant county prosecutor. In addition, such an amendment is attempting to dictate what county projects can take place within permitted zoning, he said.
"Charter municipalities have a lot of power, obviously, but I don't think it's this broad," Mr. Borell said.
A court would decide if the amendment is enforceable, should it reach that point, Mr. Borell said. The measure could instead be challenged before reaching the ballot, he said.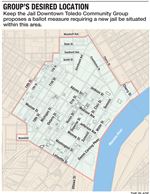 THE BLADE
Enlarge | Buy This Image
"I have not seen anything like this before, but I have my doubts about the legality of that and whether it's enforceable," Mr. Borell said.
It is necessary to give people an opportunity to weigh in and ensure their voice, said Sean Nestor, a member of the committee associated with this petition.
"We are using the tools of democracy to see what the public really thinks," Mr. Nestor said.
Mr. Nestor said this is ultimately a matter of home rule, a topic he said carries some gray area. He cited the city's declaration of home rule in the red-light camera debate.
If a city can dictate matters through zoning, residents should have some degree of control, Mr. Nestor said. Attorneys did not draft the measure but later looked it over, he said.
City Law Director Dale Emch said officials would review the proposal's validity.
"We respect the right of the people to amend the charter. That's democracy in action," Mr. Emch said. "Whether or not such language would legally prevent the county from building its jail outside of downtown is something that the law department would explore at the appropriate time."
Contact Ryan Dunn at: rdunn@theblade.com, 419-724-6095, or on Twitter @RDunnBlade.
Guidelines: Please keep your comments smart and civil. Don't attack other readers personally, and keep your language decent. Comments that violate these standards, or our privacy statement or visitor's agreement, are subject to being removed and commenters are subject to being banned. To post comments, you must be a registered user on toledoblade.com. To find out more, please visit the FAQ.