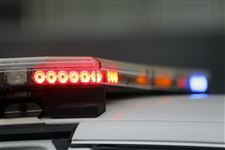 The Blade/Andy Morrison
Enlarge | Buy This Image
MONROE — The Monroe County Sheriff's Office is investigating a car crash that left a 38-year-old woman dead.
Tammi L. Roberts of Maybee, Mich., was headed west on Zink Road in Exeter Township when her vehicle went off the road at about 12:45 a.m., deputies said in a release.
The vehicle continued through a field and eventually crashed into the back of a house on Finzel Road. Nobody inside the home was injured.
Ms. Roberts was not wearing a seat belt and was pronounced dead at the scene, deputies said.
Guidelines: Please keep your comments smart and civil. Don't attack other readers personally, and keep your language decent. Comments that violate these standards, or our privacy statement or visitor's agreement, are subject to being removed and commenters are subject to being banned. To post comments, you must be a registered user on toledoblade.com. To find out more, please visit the FAQ.