Bond was set at $250,000 on Thursday for a Holland man accused of threatening to kill a central Toledo woman if she didn't have sex with him.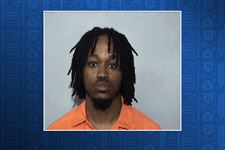 Painter
Dale Painter, 31, is charged with rape, a first-degree felony.
The woman allowed Mr. Painter to stay at her East Woodruff Avenue home because he told her he had nowhere else to stay, court records show.
While at the woman's home Wednesday, Mr. Painter told her, "I'm gonna kill you before I leave," according to an affidavit filed in Toledo Municipal Court.
Out of fear of being physically attacked, the woman complied with Mr. Painter's request for sex.
Toledo police arrested Mr. Painter Wednesday.
Guidelines: Please keep your comments smart and civil. Don't attack other readers personally, and keep your language decent. Comments that violate these standards, or our privacy statement or visitor's agreement, are subject to being removed and commenters are subject to being banned. To post comments, you must be a registered user on toledoblade.com. To find out more, please visit the FAQ.