After receiving two downtown buildings and more than $270,000 from the Lucas County Land Bank, a government agency chaired by Toledo mayoral candidate Wade Kapszukiewicz, downtown developer Dave Ball offered free office space to the candidate's campaign.
Mr. Kapszukiewicz and Mr. Ball both told The Blade Wednesday they didn't think the offer of free office space in the downtown Gardner Building — valued at $4,000 — was a conflict.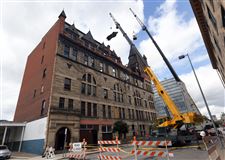 Workers remove a piece of the Pythian Castle Friday May 26, 2017 in Toledo. Developer Dave Ball acquired the castle at Jefferson Avenue and Ontario Street from the Lucas County Land Bank in November.
The Blade/Dave Zapotosky
Enlarge | Buy This Image
"Not at all," the candidate said.
It "never crossed my mind," the developer said.
Sam Melendez, a spokesman for Toledo Mayor Paula Hicks-Hudson, said the free office space provided by Mr. Ball for Mr. Kapszukiewicz's campaign gives him "great pause."
"It doesn't look good at all. I would always advise a candidate I am working with to avoid doing something like that," he said.
RELATED CONTENT: Candidates accuse each other of undermining public trust ■ Toledo mayoral candidates differ on city's condition at NAACP forum ■ First day early vote outpaces 2013 and 2017 primary
The Lucas County Land Bank transferred ownership of the former Leo's Bookstore on Superior Street for $1 in 2015 and the Pythian Castle for $300 in 2016 to Mr. Ball.
Campaign finance reports show that Mr. Ball is providing rent-free office space to the Kapszukiewicz campaign in the Gardner Building, which he also owns. The reports listed $4,000 as an in-kind contribution from Mr. Ball in the finance report the Kapszukiewicz campaign filed in September.
Records show the sales of the former bookstore at 331 N. Superior St., and the Pythian Castle, 801 Jefferson St., to Mr. Ball's companies were approved by Mr. Kapszukiewicz.
He and other board members voted unanimously to support the recommendation of the land bank staff to sell the buildings for a nominal cost to Mr. Ball.
Mayor Hicks-Hudson did not list Mr. Ball as a contributor to her campaign, either in money or for in-kind services, finance reports show.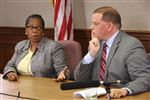 Mayoral Challenger and Lucas County Treasurer Wade Kapszukiewicz.
The Blade/Katie Rausch
Enlarge | Buy This Image
Mr. Ball bought the bookstore property from the land bank for $1 in 2015 after he submitted a three-phase plan to do a $5 million redevelopment of the three-story building. He paid $300 last year for the 127-year-old Pythian Castle, which had been vacant since the 1970s. Mr. Ball was also handed a $274,300 grant from the land bank to pay for roof replacement for the dilapidated building.
The agreement calls for Mr. Ball to make the building habitable within three years or he will have to pay the money back.
Mr. Kapszukiewicz said he was aware that Mr. Ball was the recipient of the two former land bank buildings when he accepted his offer for the free use of offices in the Gardner Building for his campaign headquarters. However, he said he doesn't think that poses a conflict of interest.
"The land bank deals with many individuals, business owners, and developers and involves hundreds if not thousands of properties. I have never put any thought into making that linkage," he said.
Mr. Ball said it "never crossed my mind" that offering the Gardner Building to the Kapszukiewicz campaign could be perceived as a conflict because he received the properties from the land bank.
"I never thought it could be an issue. I never put the two together," he said. "People understand what I do as a developer and business owner and they have confidence in my abilities. I let my 30-plus years of redevelopment speak for itself."
The land bank acquired the properties given to Mr. Ball's companies through tax foreclosures.
Mr. Kapszukiewicz said Mr. Ball stepped forward with a proposal to save the Pythian Castle from the wrecking ball and the developer has a proven track record in renovating old buildings in the downtown.
"Yes, I physically voted unanimously with the board to move forward with Mr. Ball's proposal, which means I supported it and the mayor supported it," he said.
Mr. Kapszukiewicz added his support of the measure amounted to support for preserving historic buildings and doing everything possible to prevent them from falling down or being demolished.
Mayor Hicks-Hudson has been on the land bank's board of directors since 2012, when she was a district councilman. She wasn't present for the meeting on Dec. 5, 2014 when the Superior Street property sale was approved or the meeting on Aug. 26, 2016 for the Pythian Castle agreement.
The Pythian Castle development calls for it to be developed in conjunction with the adjoining former Greyhound bus station owned by Mr. Ball. The first phase, estimated at nearly $1 million, includes a new roof, removal of fire escapes, brick work, new elevator, and interior demolition.
Eventually, under Mr. Ball's proposal, the building would house commercial, retail, and office space on the first three floors and loft apartments on the top two levels.
Mr. Ball said he likes both Mayor Hicks-Hudson and Mr. Kapszukiewicz and believes the city would be in good hands if either candidate is elected on Nov. 7.
"I will tell you I have been critical of the leadership we have in our community in the past. But right now we have a mayor who I totally think the world of. I like her. I respect her," he said.
Contact Mark Reiter at: markreiter@theblade.com or 419-724-6199
Guidelines: Please keep your comments smart and civil. Don't attack other readers personally, and keep your language decent. Comments that violate these standards, or our privacy statement or visitor's agreement, are subject to being removed and commenters are subject to being banned. To post comments, you must be a registered user on toledoblade.com. To find out more, please visit the FAQ.