Retooling the North American Free Trade Agreement is a much needed action but ending it completely would be bad for northwest Ohio's auto industry in particular, U.S. Sen. Rob Portman said Thursday.
Mr. Portman, (R., Ohio) came to Toledo Thursday to tour the General Motors Toledo Transmission plant on Alexis Road, the second stop on a three-day tour to visit some of the state's largest auto plants.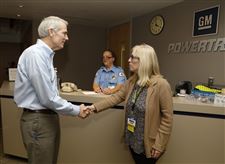 Sen. Rob Portman is greeted by plant manager Nancy Laubenthal at the General Motors Toledo Transmission plant, Thursday.
The Blade/Andy Morrison
Enlarge | Buy This Image
On Wednesday the senator was at a Ford plant in Cincinnati. Before arriving in Toledo he spent part of Thursday at a GM plant in Parma near Cleveland. On Friday he will tour Fiat Chrysler's Toledo Assembly Complex before heading to Marysville to tour the Honda manufacturing facility.
At Toledo Transmission Mr. Portman, co-chair of the U.S. Senate's Auto Caucus, met with plant officials then got a tour of the facility that makes six- and eight-speed transmission for GM cars and trucks. Last year the plant was told GM will spend $668 million to expand it so it can make an unspecified new product there.
Mr. Portman said he decided to visit the GM plant to acknowledge the success of employees and management there, but also to call attention to ways that success can be augmented.
"One way I can help them more is to reform the broken tax code. That's what we're planning to do in Washington over the next couple of months," the senator said.
U.S. manufacturers have a heavier tax burden than their overseas competitors, Mr. Portman said. Workers like those at GM transmission "have to work smarter and harder just to keep up," he added.
National Association of Manufacturers President and CEO Jay Timmons recently said reforming the tax code should be a top priority for Congress.
"Other countries have modernized their tax code to attract new business and create new jobs. It's time for America to lead the way. It's time for Congress to pass tax reform," Mr. Timmons said at a rally in Pennsylvania.
But Mr. Portman said he is concerned by talk he has heard regarding reforming the 1993 NAFTA agreement between the U.S., Canada, and Mexico. President Donald Trump has hinted that he may want to pull the U.S. out of the trade treaty.
Toledo Transmission "sends about 20 percent of their front-wheel-drive transmissions to Mexico. And they're put into a car there which is shipped back here," Mr. Portman said. "We don't want these transmission made in Mexico or Canada, so you've got to be careful how you [reform NAFTA]. I think there's a balance here.
"Are there some things that should be changed in NAFTA? Yes, they should. And we've got to make sure it's a better agreement for America," the senator said. "But if we go too far and pull out of the agreement, it would be bad for this plant and northwest Ohio."
Contact Jon Chavez at jchavez@theblade.com or 419-724-6128.
Guidelines: Please keep your comments smart and civil. Don't attack other readers personally, and keep your language decent. Comments that violate these standards, or our privacy statement or visitor's agreement, are subject to being removed and commenters are subject to being banned. To post comments, you must be a registered user on toledoblade.com. To find out more, please visit the FAQ.