A local investment group is one step closer to converting a former veterinary clinic on Sylvania Avenue into a medical marijuana dispensary.
After lengthy discussion, Toledo City Council's zoning and planning committee Wednesday recommended approval of a special-use permit that would allow Glass City Alternatives LLC to operate a medical marijuana retail shop at a now-vacant building at 3209 W. Sylvania Ave.
Councilman Cecilia Adams expressed concerns about safety and cast the lone "no" vote.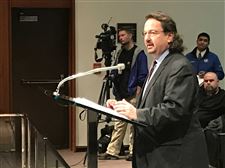 Attorney Mark Jacobs addresses city council's zoning and planning committee regarding Glass City Alternatives LLC's plan to open a medical marijuana dispensary in West Toledo.
THE BLADE/SARAH ELMS
Enlarge | Buy This Image
"It's unfortunate that morality loses, or has lost, again. And I think there are a significant number of people out there who feel the way that I'm expressing," she said.
The special-use permit request next will go before the full council for a vote.
Toledo lawyers Tom Helberg and Mark Jacobs, representing Glass City Alternatives, told the committee safety measures will be put in place, such as a uniformed security guard and surveillance system, and customers will have to display proper documentation from a doctor to gain access to the store.
Per state regulations, no marijuana sold at the dispensary will be designed for smoking. All the products will be creams, ointments, or edible, and all will be prepackaged in specific doses before they arrive at the store, they said.
"I don't take it lightly being associated with something like this," Mr. Helberg said. "There is a medicinal need for this, in the right context. ... I give Ohio credit. It's very restrictive."
Toledoan Cathy Stone, the office manager at Finley Dentistry just down the street from the proposed dispensary, spoke against the potential dispensary and said she cannot see any benefit to allowing medical marijuana to be sold in Toledo — particularly in a storefront on a busy thoroughfare.
"This is still a drug, guys. It's still a drug and it will lead to bigger and better drugs, and that's the bottom line," she said. "I just think we should be moving a little bit more slowly and cautiously with this whole thing."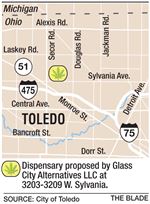 THE BLADE
Enlarge | Buy This Image
Medical marijuana was legalized in Ohio in September, 2016, and the state has until Sept. 8 this year to get its Ohio Medical Marijuana Control Program up and running. That program will set state guidelines for cultivation, processing, testing, dispensing, and use of the drug.
The Ohio Board of Pharmacy received 370 applications for dispensary licenses in November, with 18 of those seeking to open local retail outlets for medical marijuana products in Lucas County. Up to 60 licenses can be approved statewide, and the rules designate only two dispensaries be allowed in Lucas County.
Glass City Alternatives awaits state approval for its dispensary application for the Sylvania Avenue site, as well as a second Lucas County site and a third in Wood County, state records show.
Purchase of the Sylvania Avenue property is contingent on the group receiving council and state approval, Mr. Jacobs said. Mr. Helberg said the building will need renovations, and he would like to have the dispensary operational by early September.
Contact Sarah Elms at selms@theblade.com, 419-724-6103, or on Twitter @BySarahElms.
Guidelines: Please keep your comments smart and civil. Don't attack other readers personally, and keep your language decent. Comments that violate these standards, or our privacy statement or visitor's agreement, are subject to being removed and commenters are subject to being banned. To post comments, you must be a registered user on toledoblade.com. To find out more, please visit the FAQ.