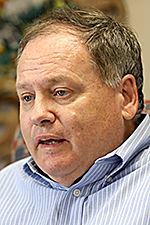 Maumee Mayor Richard Carr
An impromptu meeting between various officials last week to discuss regional water has Maumee's mayor and one of his city councilmen engaged in a war of words.
Councilman David Kissinger met over lunch Friday with Ed Moore, Toledo's director of public utilities; Mike Beazley, Oregon city administrator and adviser to Mayor Wade Kapszukiewicz; fellow Maumee Councilman Scott Noonan, and Toledo City Councilman Nick Komives, who invited Mr. Kissinger.
The group discussed ideas regarding a regional water system, among other topics involving water, although Mr. Kissinger says no promises or commitments were made. The meeting happened without Maumee Mayor Richard Carr's knowledge, and he's not hiding his feelings about it.
RELATED: Toledo leaders won't entertain suburban water system proposals
"I do not believe the city of Toledo should have ever done that," Mayor Carr said. "To go around my back and meet with council members was totally inappropriate."
The meeting happened a week after leaders from the suburbs involved in Toledo Area Water Authority talks informed Toledo they would no longer discuss their proposal. Mayor Carr voiced his displeasure with Mr. Kissinger in a Facebook post Saturday in a closed group, saying it was the angriest he's ever been as mayor.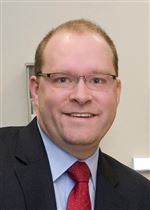 David Kissinger
He gave Mr. Noonan a pass because he's a new councilman, and because he called Mayor Carr immediately following the meeting to inform him. Mayor Carr does not believe Mr. Noonan participated in any discussion involving an agreement.
"It's one thing to have their council member meet with ours," Mayor Carr said. "But then you send the head of your water division and your head negotiator? That's not just a casual luncheon. That was a planned meeting to try to get information or change minds.
"If [Mr. Kissinger] didn't know what the meeting was for, once he got there and realized it was more than just one council member, he should have politely said, 'I'm not the one representing our city on this. I'm not council president or head of our water committee. I don't want to discuss this.'"
Mayor Carr said Mr. Kissinger met with the others to discuss possible settlement terms on TAWA, which Mr. Kissinger denies.
Mr. Kissinger shared a public Facebook post of his own, titled "Why does Mayor Carr get so angry?" In the note, Mr. Kissinger said the mayor's judgment has been "clouded with anger," and he is "willing to slant the truth to fit his personal agenda."
"I think there are many instances," Mr. Kissinger said in an interview with The Blade. "What I see is a pattern of behavior I have concerns about. They involve anger directed towards individuals. That anger is not in the best interests of Maumee or the very important work we have to do as it relates to water.
"I'm disappointed people jump to conclusions when they don't have all the information and they don't talk to all the people involved. The fact Mayor Carr decided to jump to conclusions and communicate in his own words in an angry manner, I was disappointed by that."
Mr. Kissinger added he would have liked the mayor to call him before going to social media.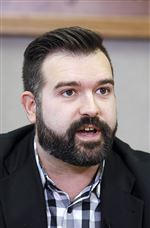 Nick Komives
Mr. Komives described the meeting as "informal," and said he has had similar meetings with other councilmen in the area, including Sylvania City Councilman Patrick Richardson and officials from the Northwestern Water & Sewer District. Mr. Beazley and Mr. Moore said they would join the group after Mr. Komives told them he was having lunch with the Maumee councilmen. Mr. Kissinger was unaware they were attending until he arrived.
"We didn't talk exclusively about the Toledo plan; we talked about all aspects of water with them," Mr. Komives said. "We were open and just wanted to answer any questions they had.
"It's our job as council members to be informed and educated on various issues, and I think they were doing their due diligence to make sure they were doing right by the people who elected them. I think it's kind of silly for Mayor Carr to be upset with his council members for doing their jobs."
As for Mr. Kissinger's comments about the mayor's "anger," he believes they are unfounded.
"I don't know where the anger has been," Mayor Carr said. "It's ridiculous. I have not shown any anger that I'm aware of, other than to him in our meetings when he's disruptive."
Contact Jay Skebba at jskebba@theblade.com, 419-376-9414, or on Twitter @JaySkebba.
Guidelines: Please keep your comments smart and civil. Don't attack other readers personally, and keep your language decent. Comments that violate these standards, or our privacy statement or visitor's agreement, are subject to being removed and commenters are subject to being banned. To post comments, you must be a registered user on toledoblade.com. To find out more, please visit the FAQ.