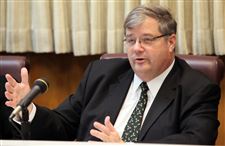 Mike Scott will step down as Rossford's city administrator.
The Blade
Enlarge | Buy This Image
Mike Scott is no longer Rossford's city administrator, but will remain employed by the city through July.
City council met in executive session Monday night to accept Mr. Scott's resignation. In a letter dated June 11 addressed to Mayor Neil MacKinnon, Mr. Scott cited personal reasons for his departure.
Council also approved an ordinance to hire former City Administrator Ed Ciecka to take over on an interim and part-time basis. He will be paid $65 an hour and work no more than 20 hours per week.
"It was a great ride; I truly enjoyed it," said Mr. Scott, who was hired in April, 2015. "We got a lot done as far as additional roadway to spur further economic development. The road across from the casino and Harmon Parkway are things I take a lot of pride in. And a lot of internal stuff we were able to get taken care of and better the city because of it."
Mr. Scott will briefly remain with the city at his current salary working as an events consultant. Ohio Chautauqua returns to town June 19-23 at Veterans Memorial Park, and Rossford is hosting this year's Glass City Balloon Race July 13-15. Mr Scott is involved in the planning for both events.
Mr. Scott will also continue to oversee the State Route 65 repaving project. He said he is looking to get back into the private sector.
Mayor MacKinnon said Mr. Scott's resignation had been in the works for about a week.
"Mike is a brilliant guy; he's very creative," Mayor MacKinnon said. "His resume in northwest Ohio and his institutional knowledge of Rossford and northern Wood County is pretty amazing."
Mr. Scott has spent many years as a public servant, spending time with the Rossford planning commission, Wood County Port Authority, Wood County Economic Development Commission, and Rossford Convention and Visitors Bureau. He will use his remaining vacation days and is entitled up to six sick days.
Mr. Ciecka will assist Mayor MacKinnon in finding a permanent city administrator, although the mayor would like to get through the year before naming a successor.
"Our plate is pretty full and we have a lot going on, including our master plan starting to kick off," he said. "So I just want to get through the year. Then I'll probably form a small search committee and we'll hire a full-time replacement."
Contact Jay Skebba at jskebba@theblade.com, 419-376-9414, or on Twitter @JaySkebba.
Guidelines: Please keep your comments smart and civil. Don't attack other readers personally, and keep your language decent. Comments that violate these standards, or our privacy statement or visitor's agreement, are subject to being removed and commenters are subject to being banned. To post comments, you must be a registered user on toledoblade.com. To find out more, please visit the FAQ.